Katherine and John's Personal, Non-Traditional Wedding in Idaho Falls
One of the reasons I love this work is that I love capturing love. The personal moments and history between two people joining as partners. So I was doubly glad, filled to the brim really, when Katherine, my best friend from college, invited me to capture her marriage to her partner John.
In fact, it was the third of three wedding celebrations. Katherine and John met as teachers abroad in Myanmar. Both members of the expat community, they bonded over a deep respect of community, of locating themselves in the broader life of the world.
So when they decided to marry each other, they wanted to make sure each and every person that had contributed to the love they built together could be there to celebrate.
The first celebration was a beautiful night in Myanmar, laughing and joking with the incredible group of friends who brought them together.
The second, was a joyous day in Katherine's hometown of Eau Claire, Wisconsin. A day I attended as a guest and friend, not a photographer, and I can tell you that it was full of love and Katherine's dear friends and family.
And the third, this wedding, took place at John's hometown of Idaho Falls, Idaho.
When I spoke with Katherine and John about their hopes for this wedding day, they told me to be prepared for a day that was a little different than other weddings. They had decided to only keep the parts of a traditional wedding that felt true and real to them. There would be no officiant, no wedding party, no white dress. Just two people bringing their community around them to declare their love.
They asked me, as the photographer, to hold space for and to document the feelings and emotions throughout today and to capture the celebration with their people.
The Friday Night Welcome Party
I was able to travel from Minneapolis to Idaho on Friday, driving from the airport in Boise through the beautiful Sawtooth Mountains. I arrived in time to join the casual welcome party at John's childhood home in Idaho Falls.
The city is beautiful, with forests and farms co mingling together. And, just before sunset, John gathered everyone at the party together for a sunset-viewing-excursion. As we walked to a canal beside a field of wheat, the sun dipped toward the horizon end everything just...glowed. I couldn't resist capturing a few photos of the gathered guests, everyone joyful and carefree in this perfect place in this perfect sliver of time. There's such a sense of place here, of John sharing his childhood with Katherine who is, and who will be, his partner for life.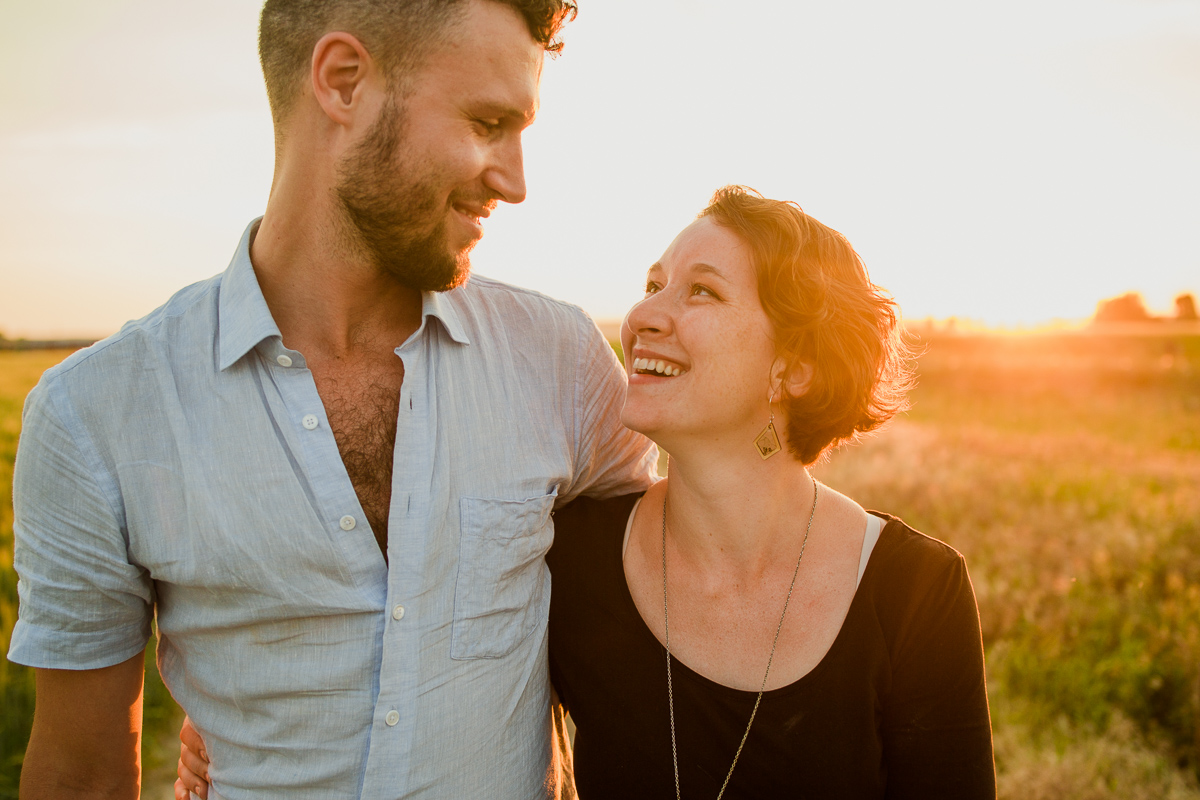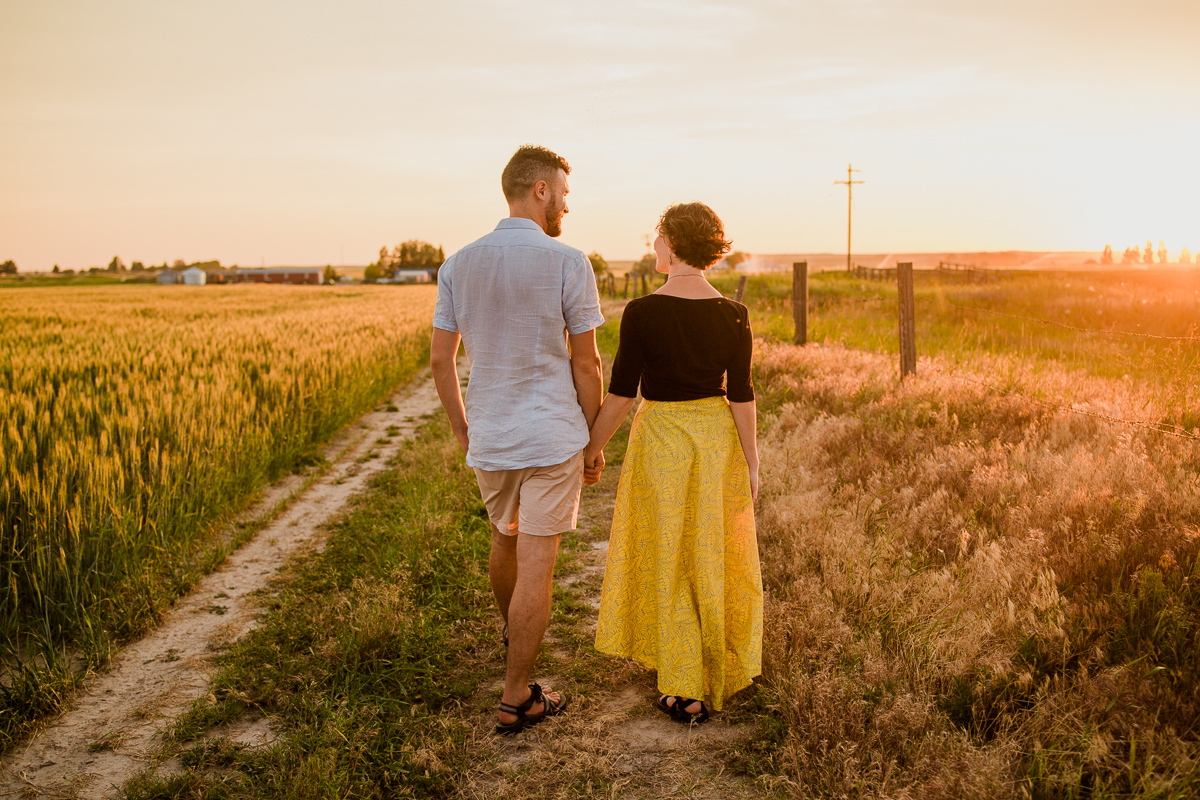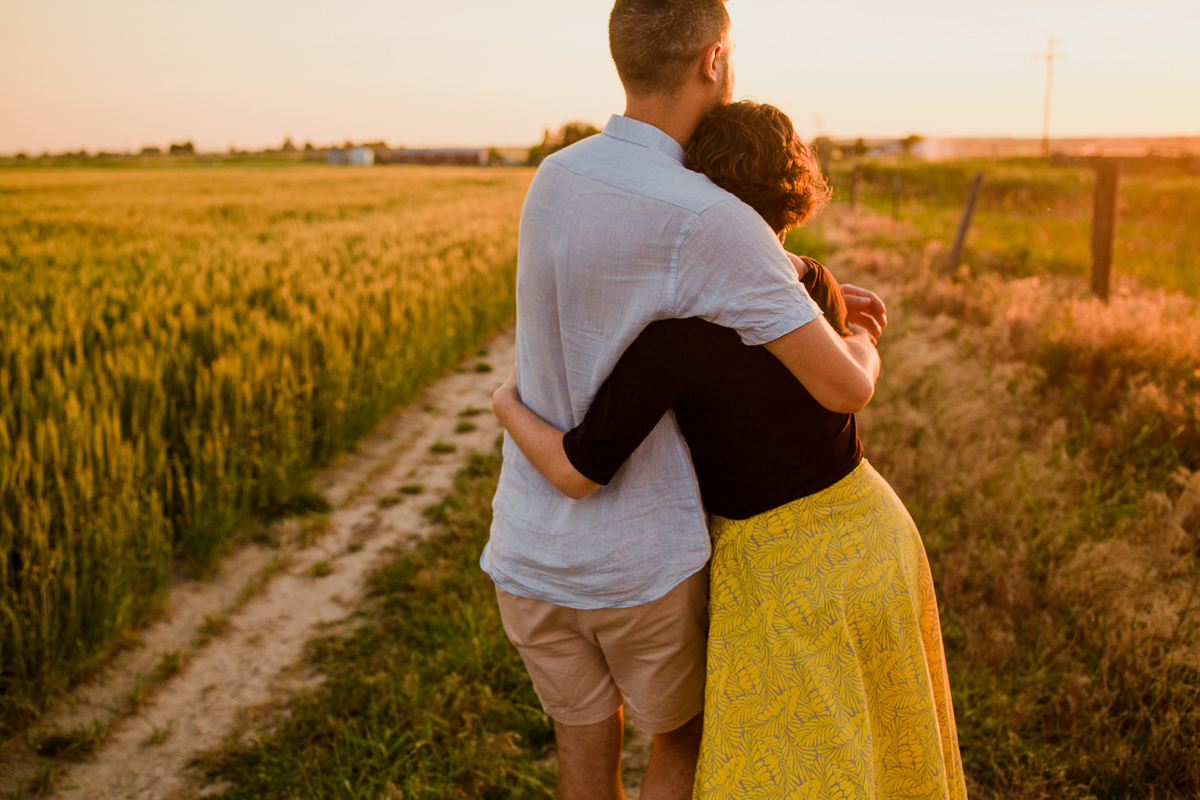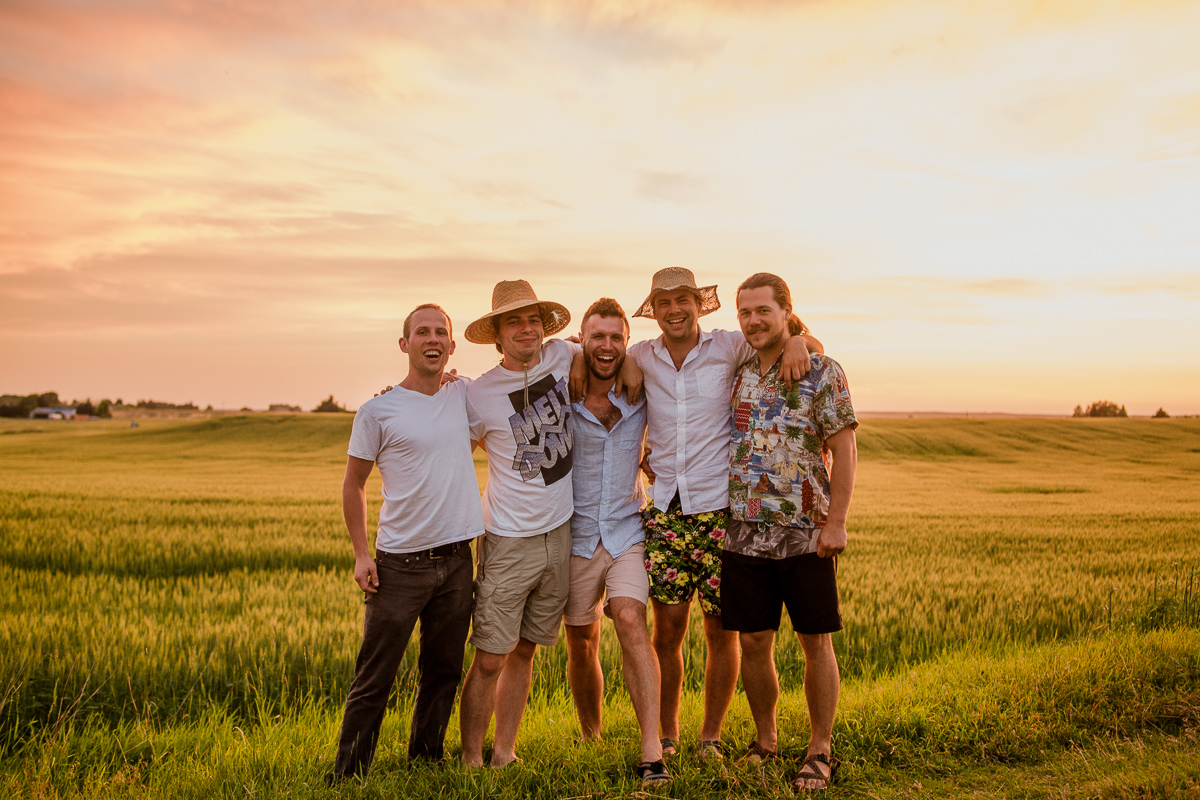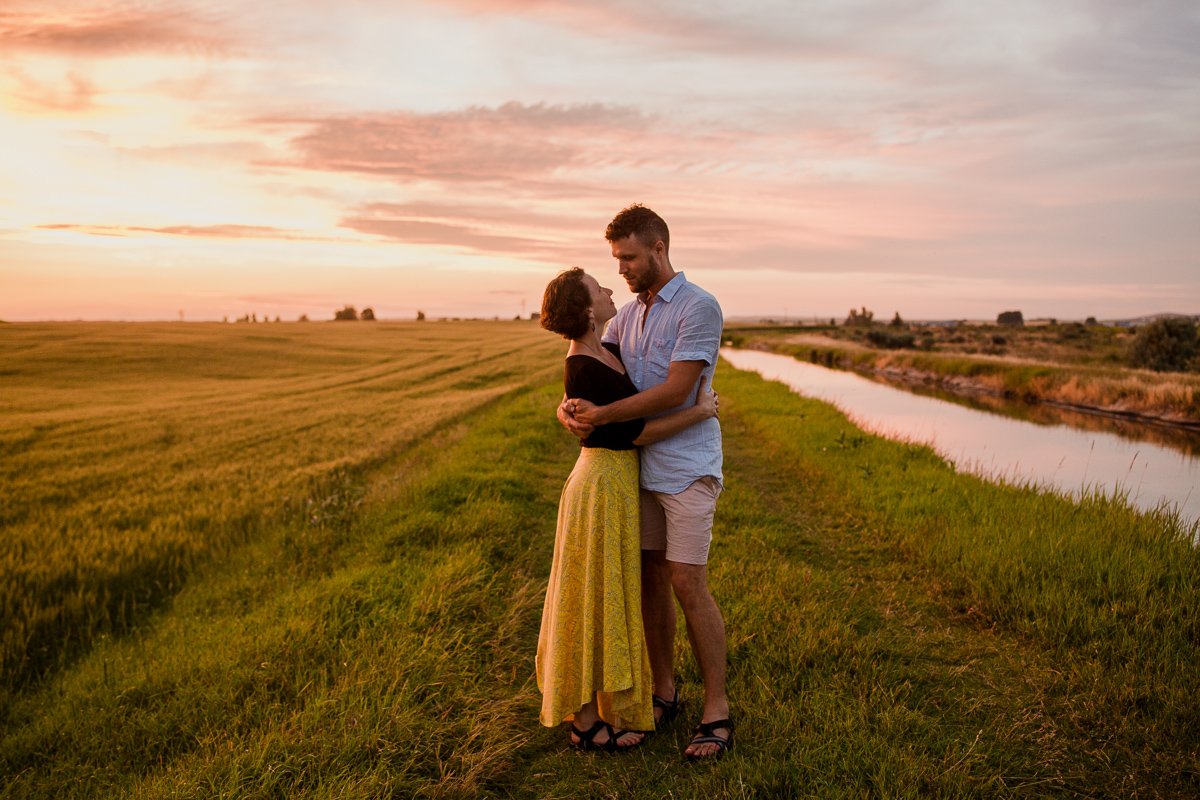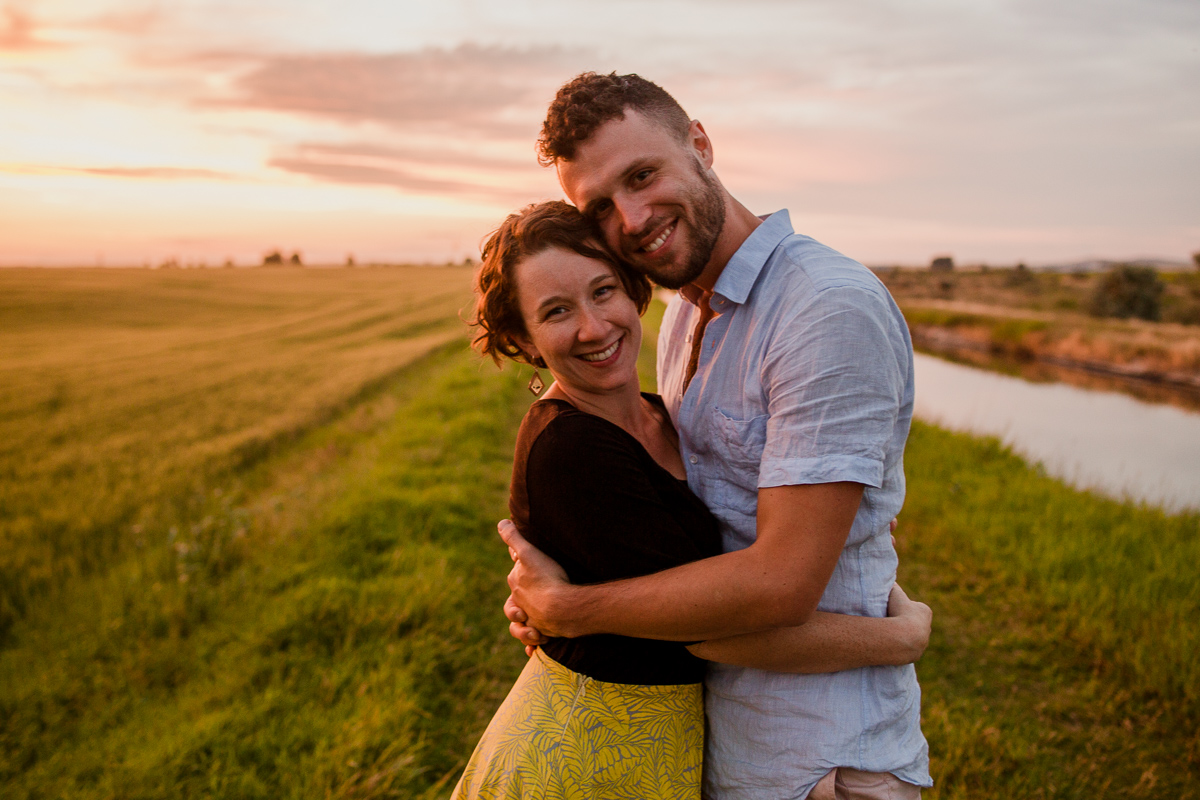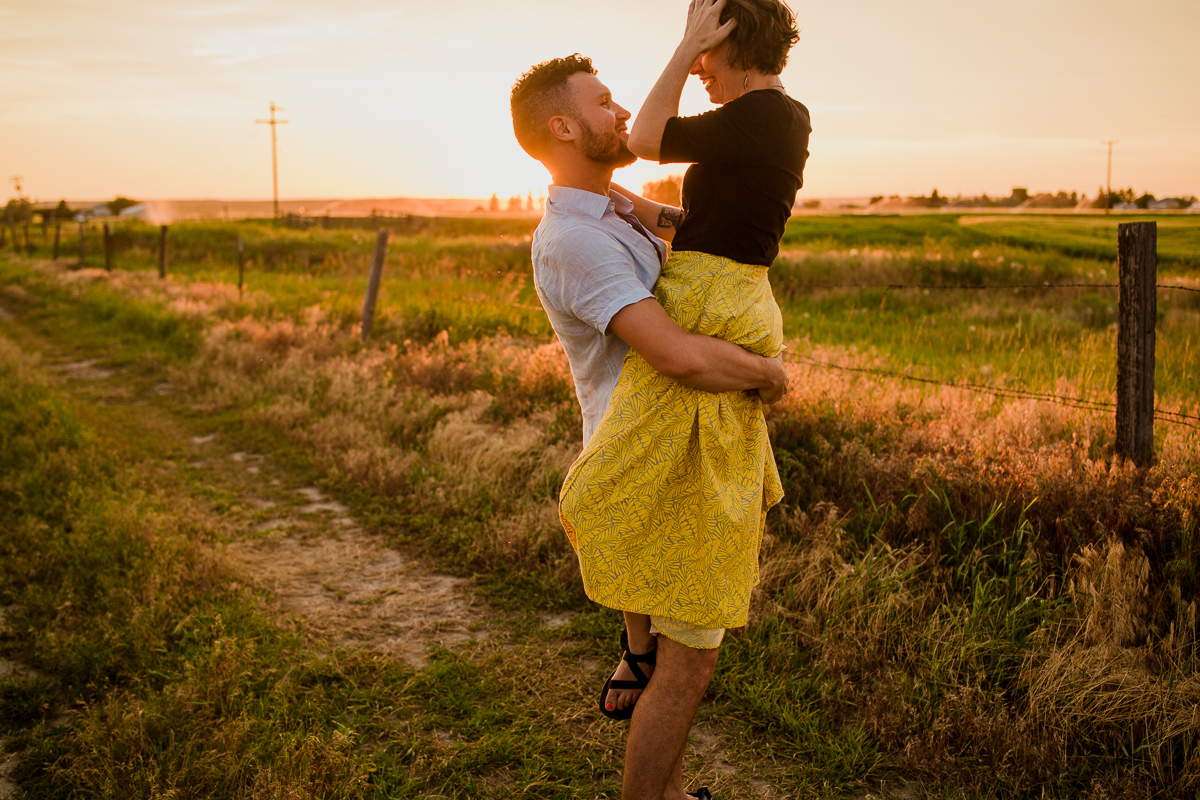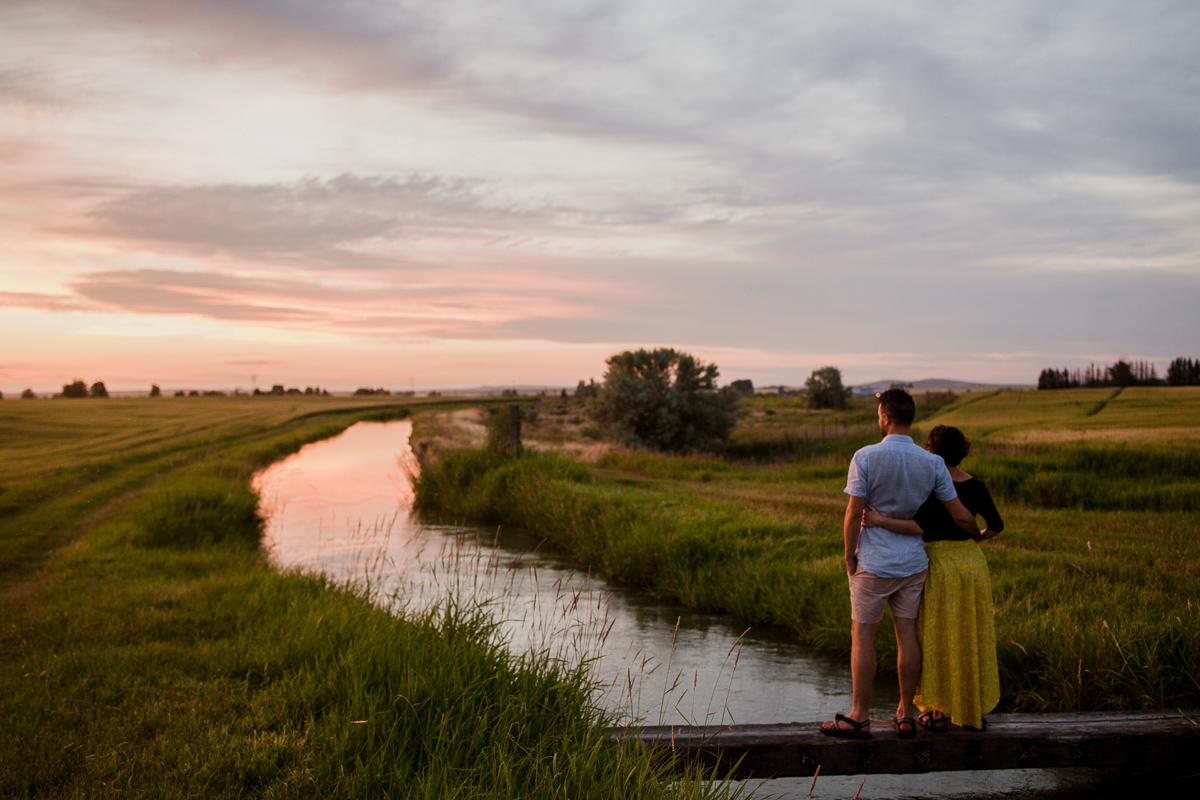 Getting Ready
Getting ready for their wedding was a casual, fun-filled afternoon. John and Katherine came straight from yoga and one of John's sisters did her hair and makeup before she put on her vibrant, coral wedding dress.
And, as day turned to evening, John mixed happy hour cocktails and they took a few moments to just hang out and enjoy each other's company, to be a little goofy before they headed to the ceremony venue. How cute are they jumping on the trampoline!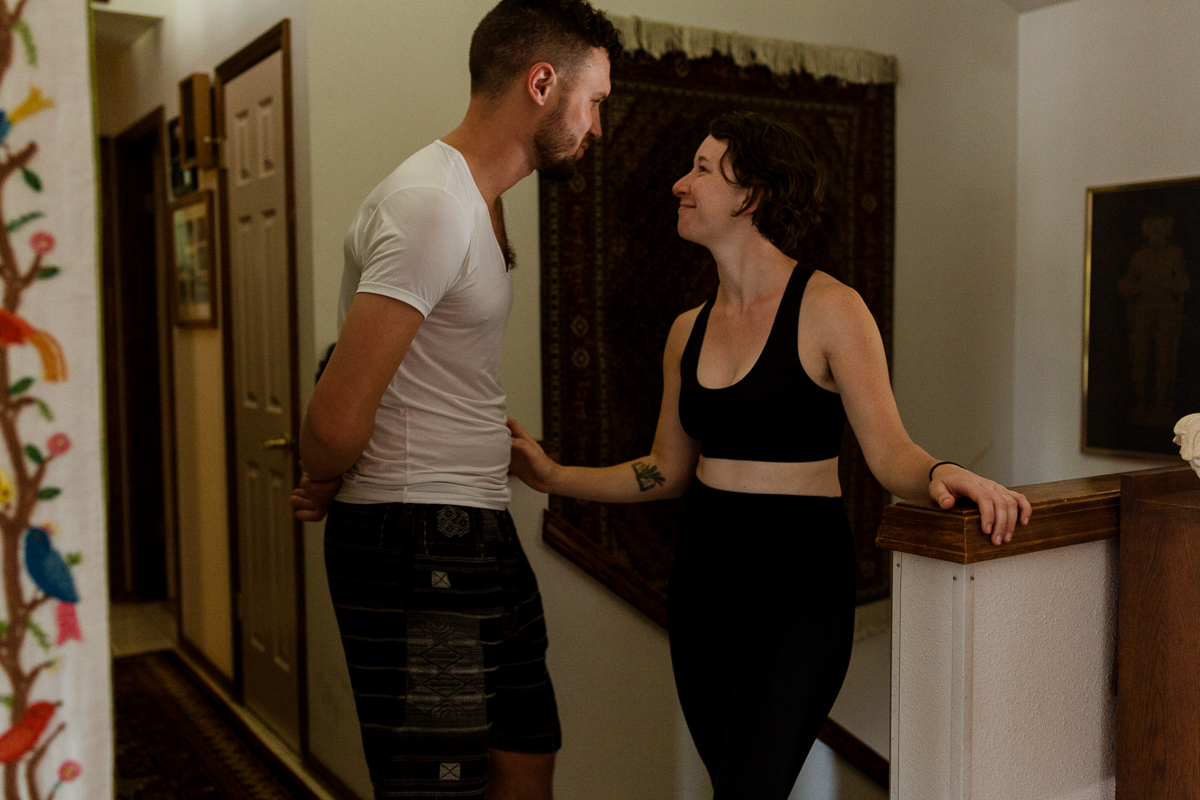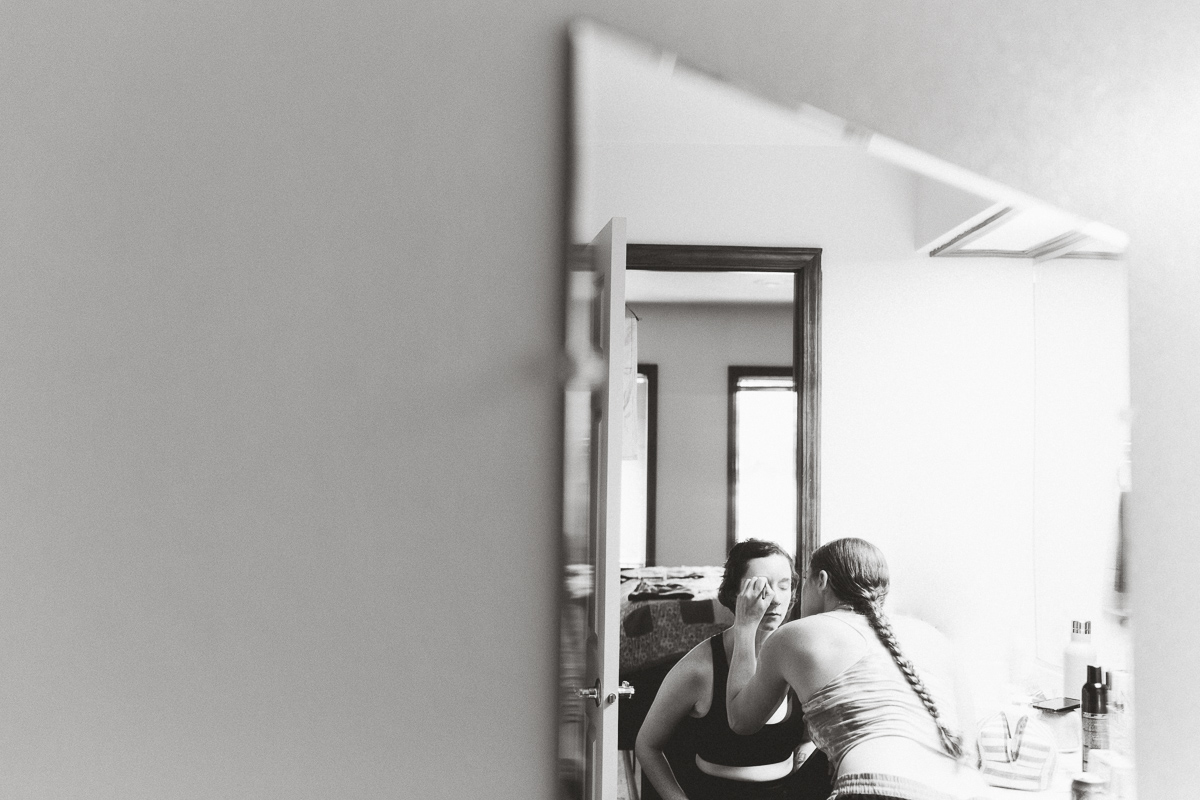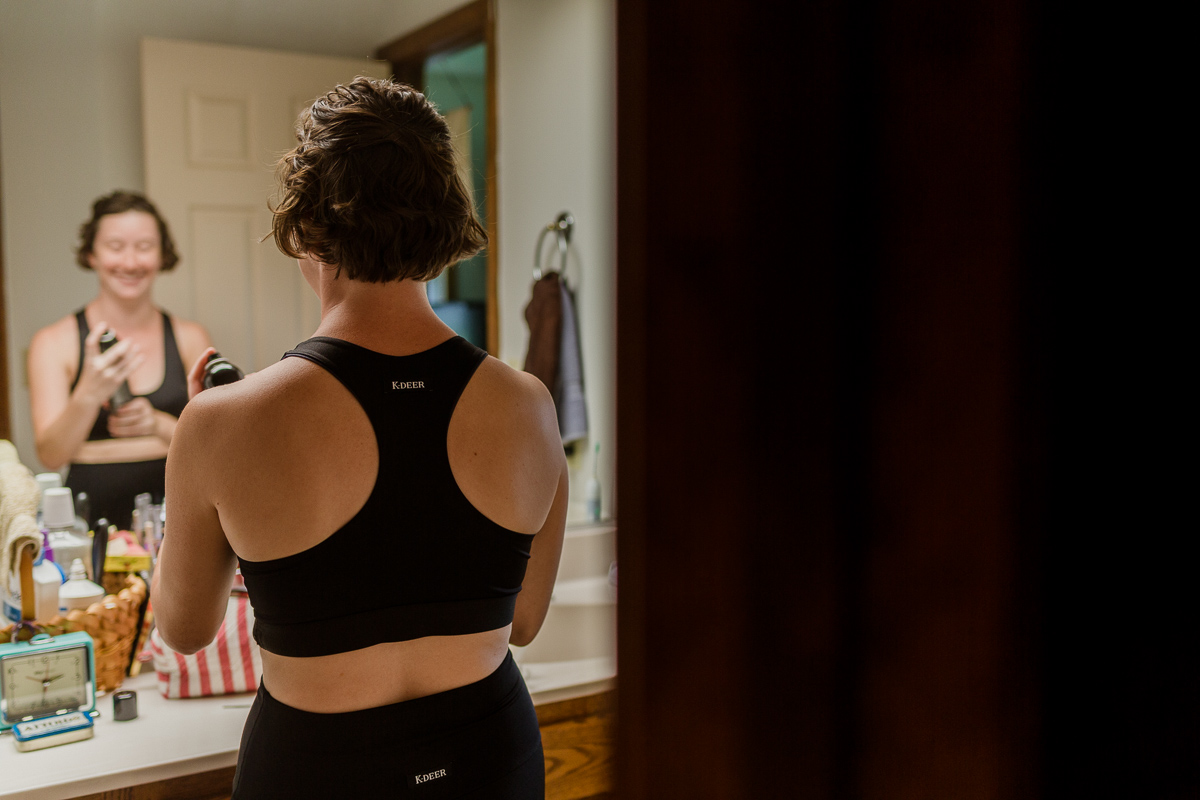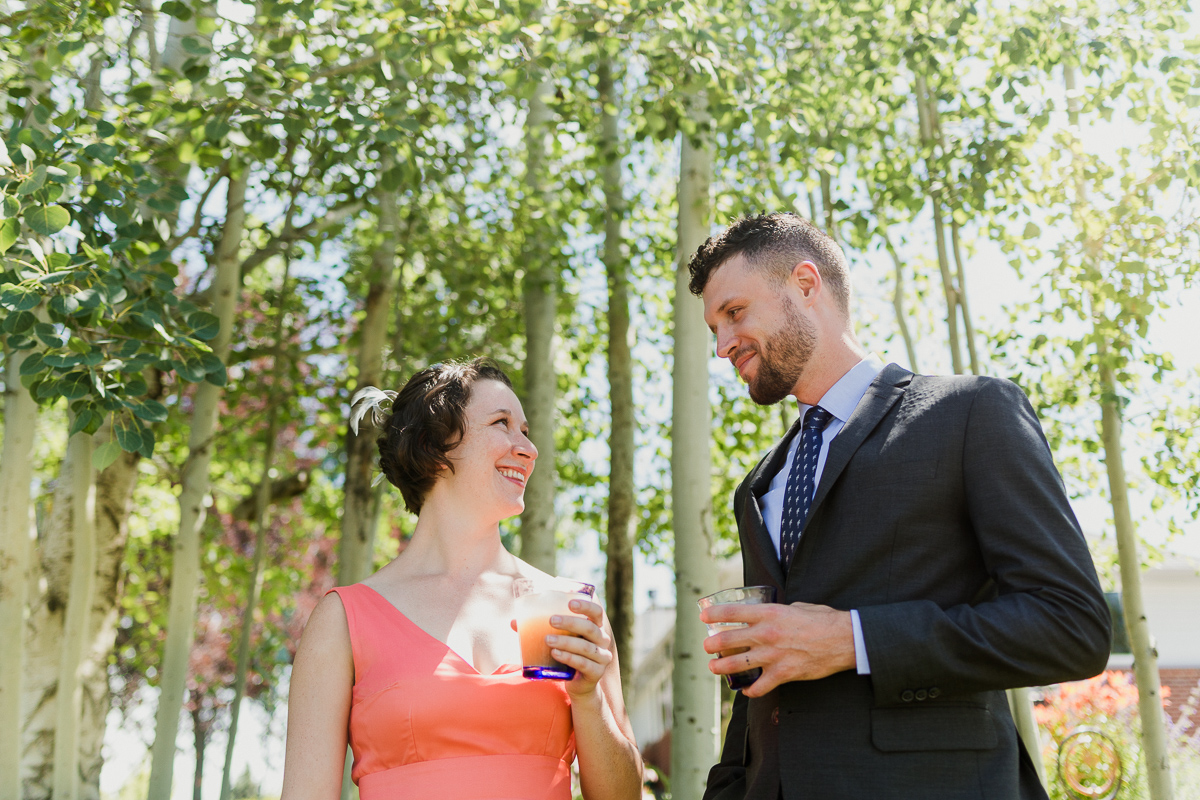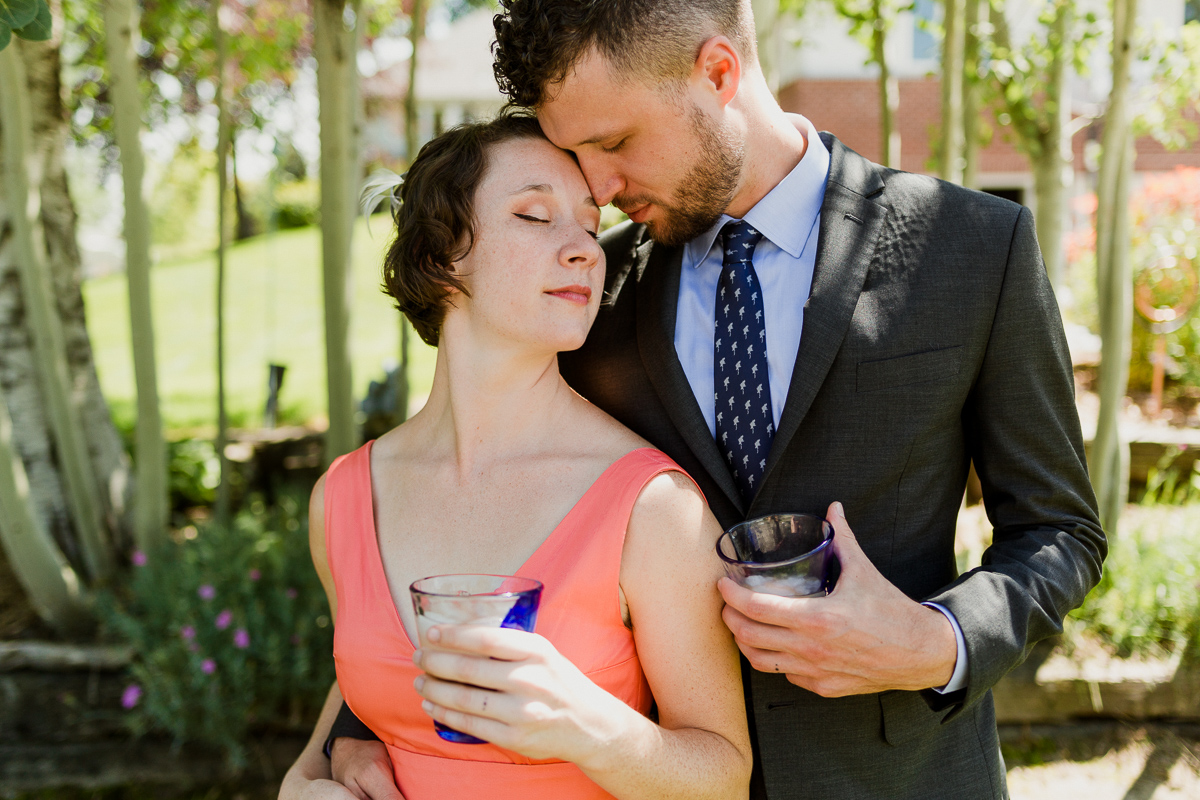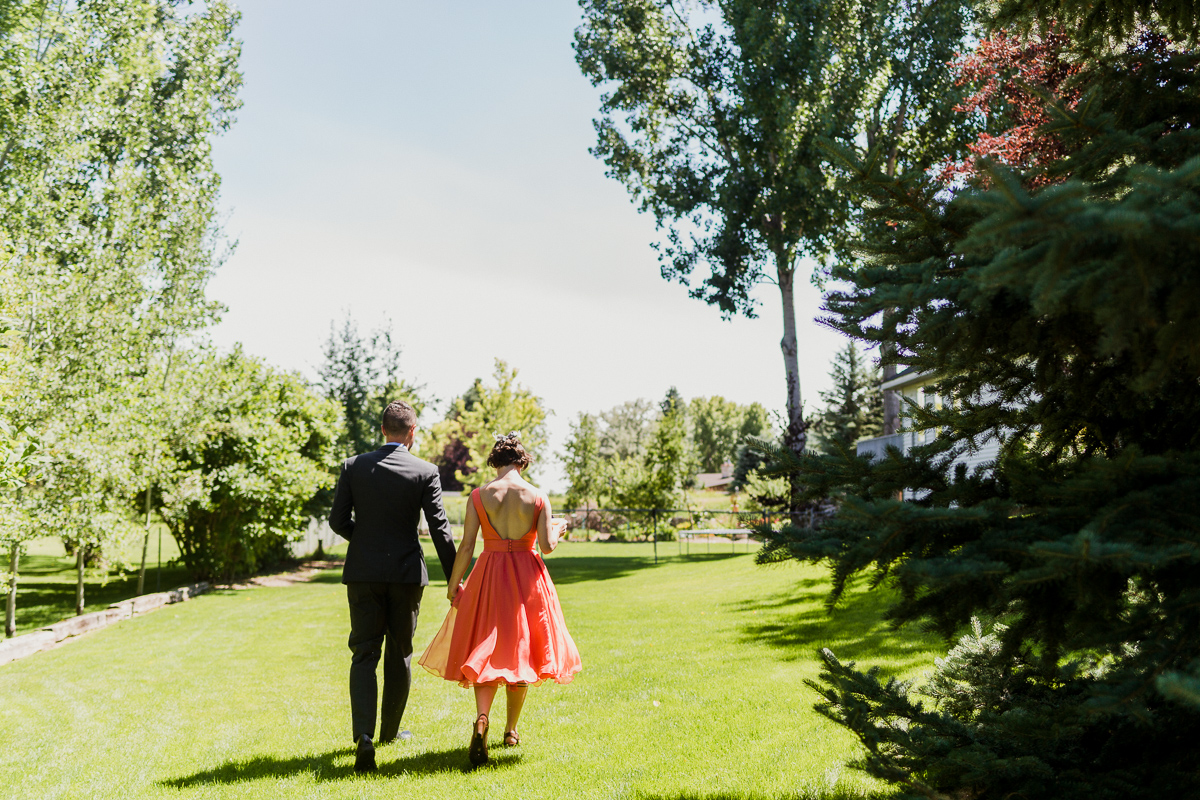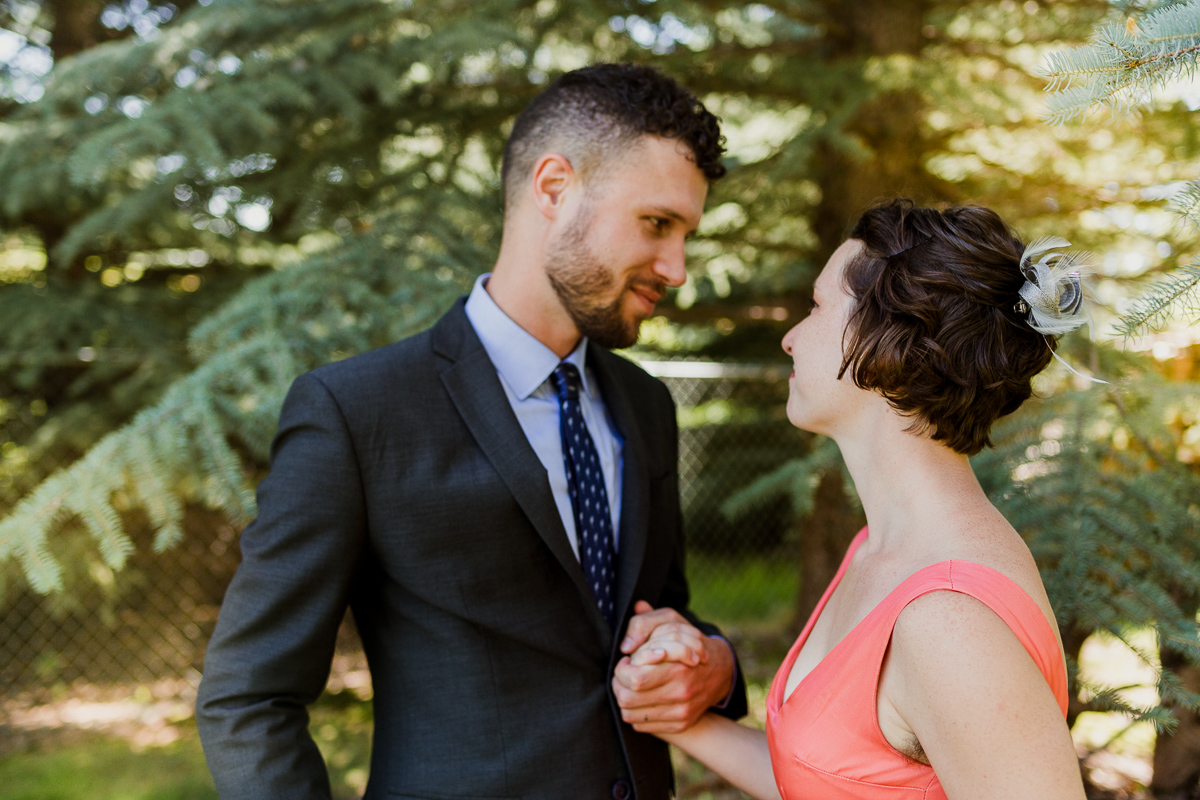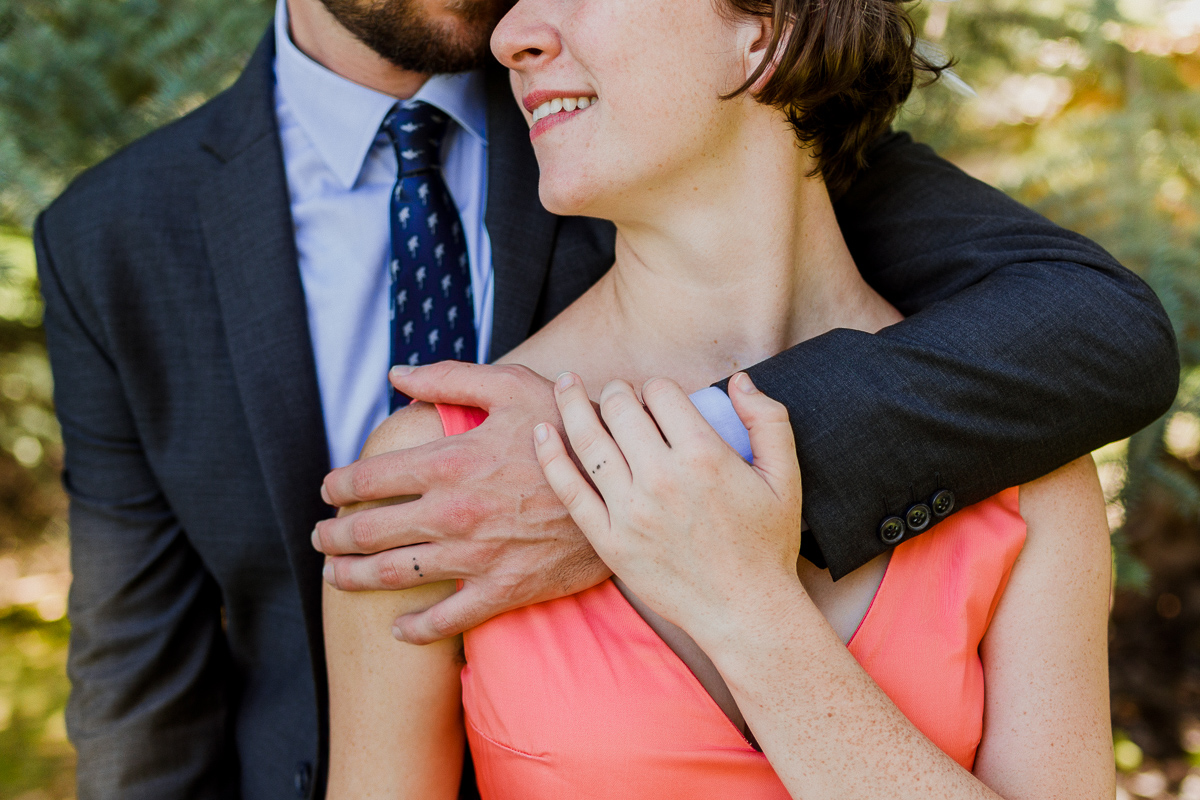 The Details and Decorations at Idaho Falls Brewery
As I arrived at the wedding venue I was stuck by the personal details Katherine, John and their families had chosen. Friends and relatives had strung festive streamers across the porch and, along the mantle, photos of Katherine and John's childhood were strung along with pictures of their lives together.
In a special place was a photo of Katherine's mom, who passed away two years ago after a long battle with breast cancer. I knew Shannon, Katherine's mom, when we were in college together - she was always the "cool mom," staying up late to share goofy stories with Katherine and I, and filling every room with her contagious, joyful laugh. I felt so lucky to know her, she was someone who really cared about people, about Katherine. Shannon met John before she passed away and was so happy that her daughter had found this wonderful person to be her partner. Katherine wanted to make sure that there was this intentional space to honor and love her mom during the wedding day, so that, in this small way, she could be with her.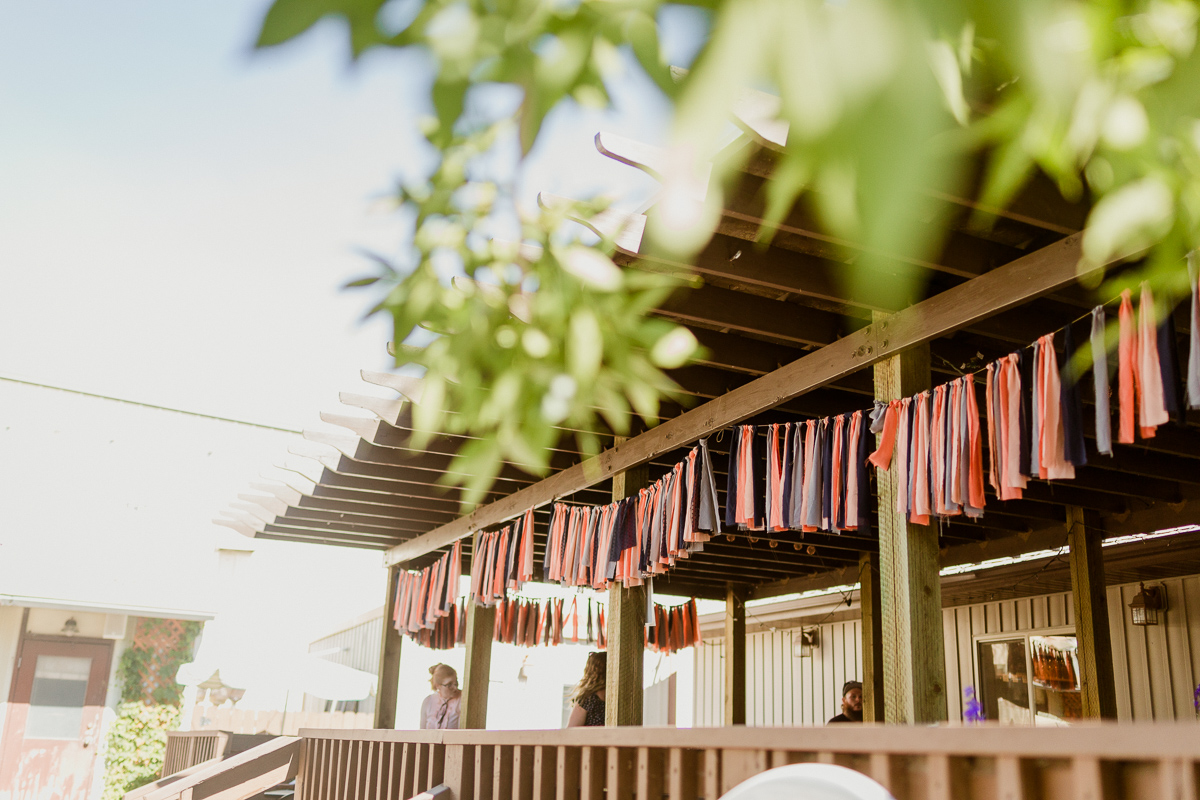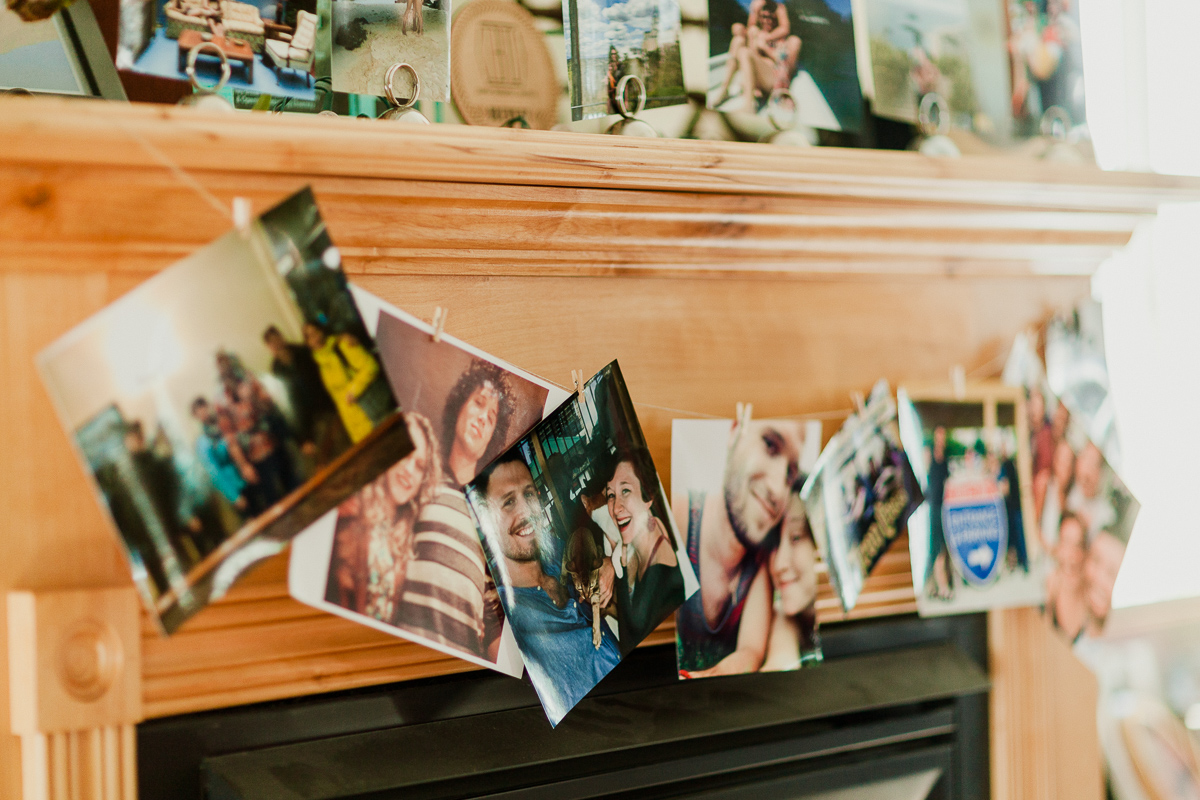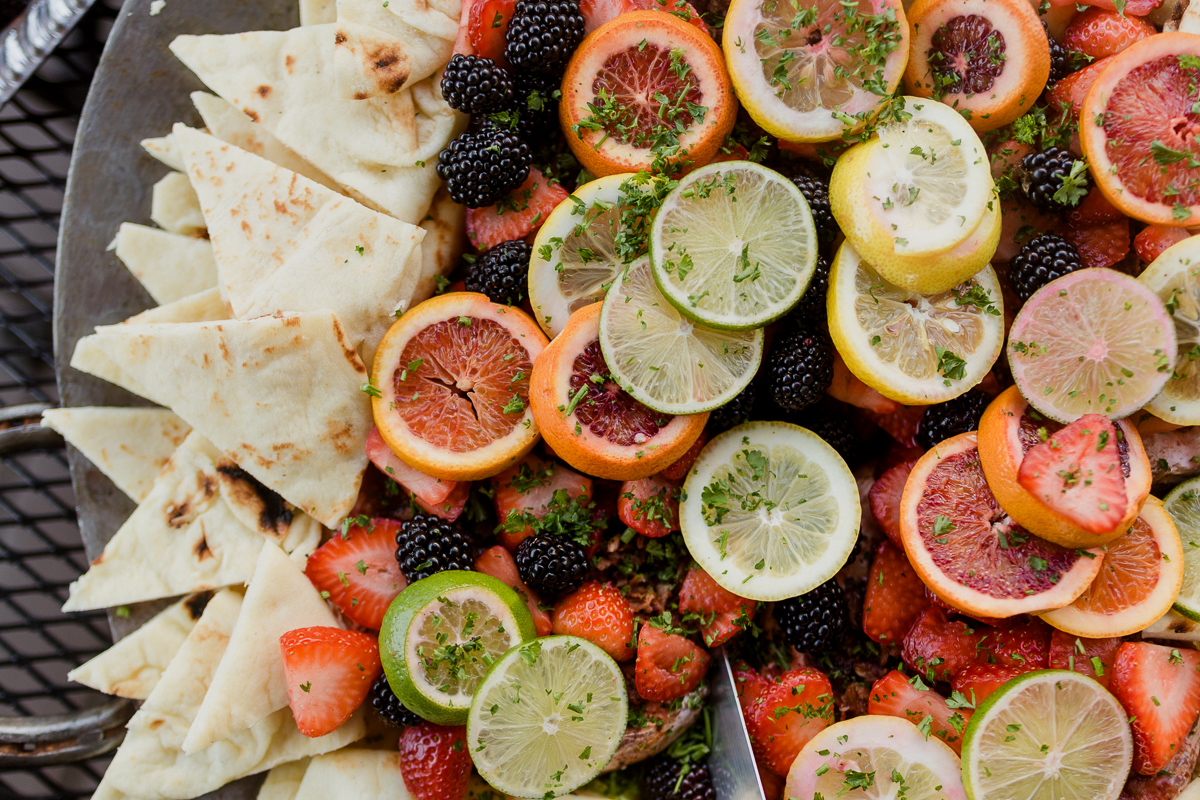 The Wedding Ceremony and Reception
Katherine and John decided to forgo the usual wedding day architecture. The reception and ceremony blended together, with guests relaxing enjoying drinks and food and each other's company. When they felt the moment was right, Katherine and John invited all their people to gather around and witness their vows.
They talked about love and relationships, about how their wedding was a celebration for the communities and people that were important to them. They invited their parents to speak and Katherine, a music teacher, played John a song on the custom-made ukulele he had given her as one of their first significant gifts. (So many happy tears!)
When, after their vows, it came time for the kiss, they invited everyone around them to embrace as well, to share the love with their partners or families or children or friends and carry it back out into the world.
I was able to sneak up on the deck behind the couple and capture these lovely photos of not only John and Katherine's faces as they exchanged words and vows but also the joy and love on their guest's faces as Katherine and John shared their ceremony.
Then they had an epic choreographed first dance before they invited everyone to join them on the dancefloor.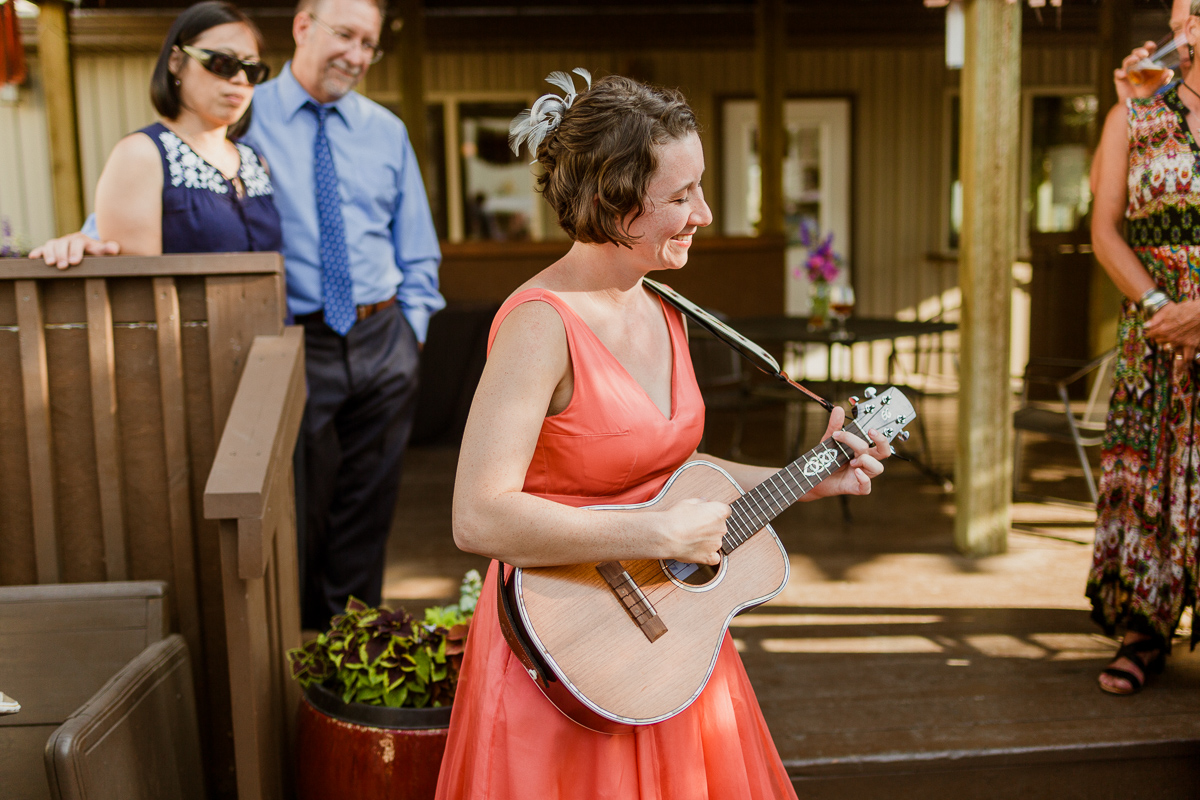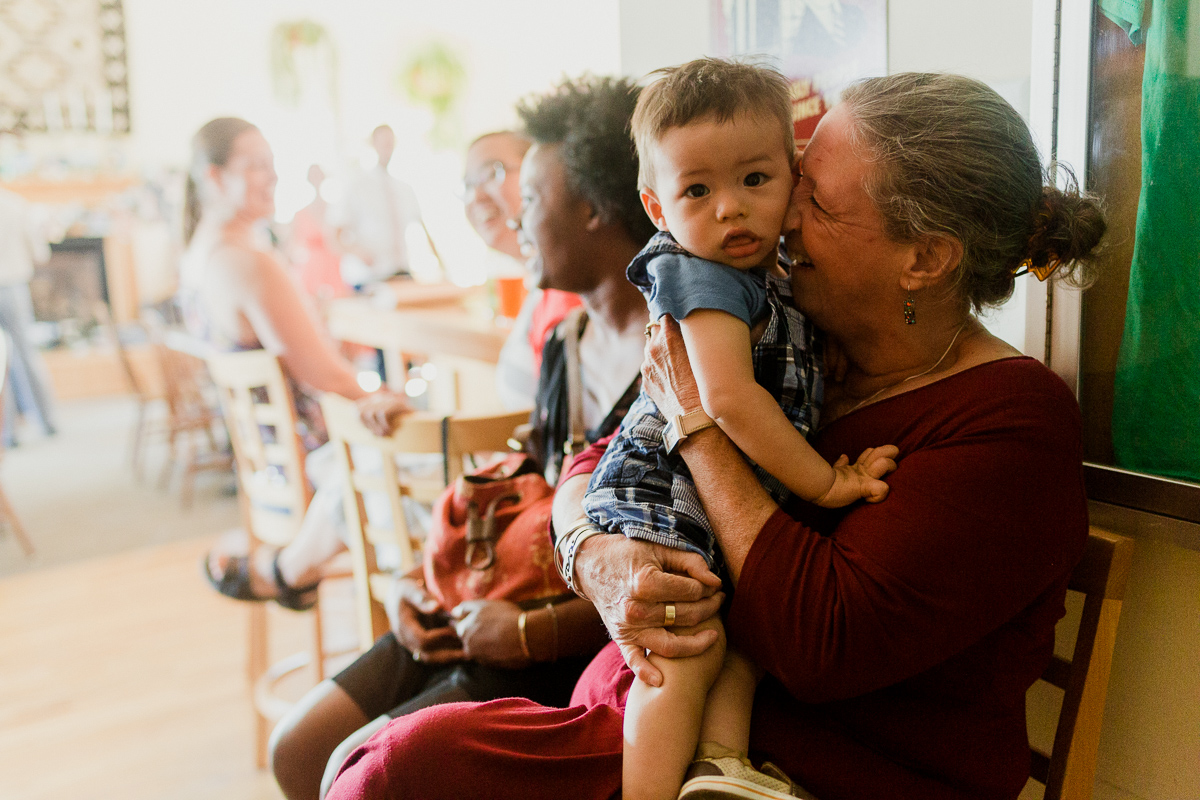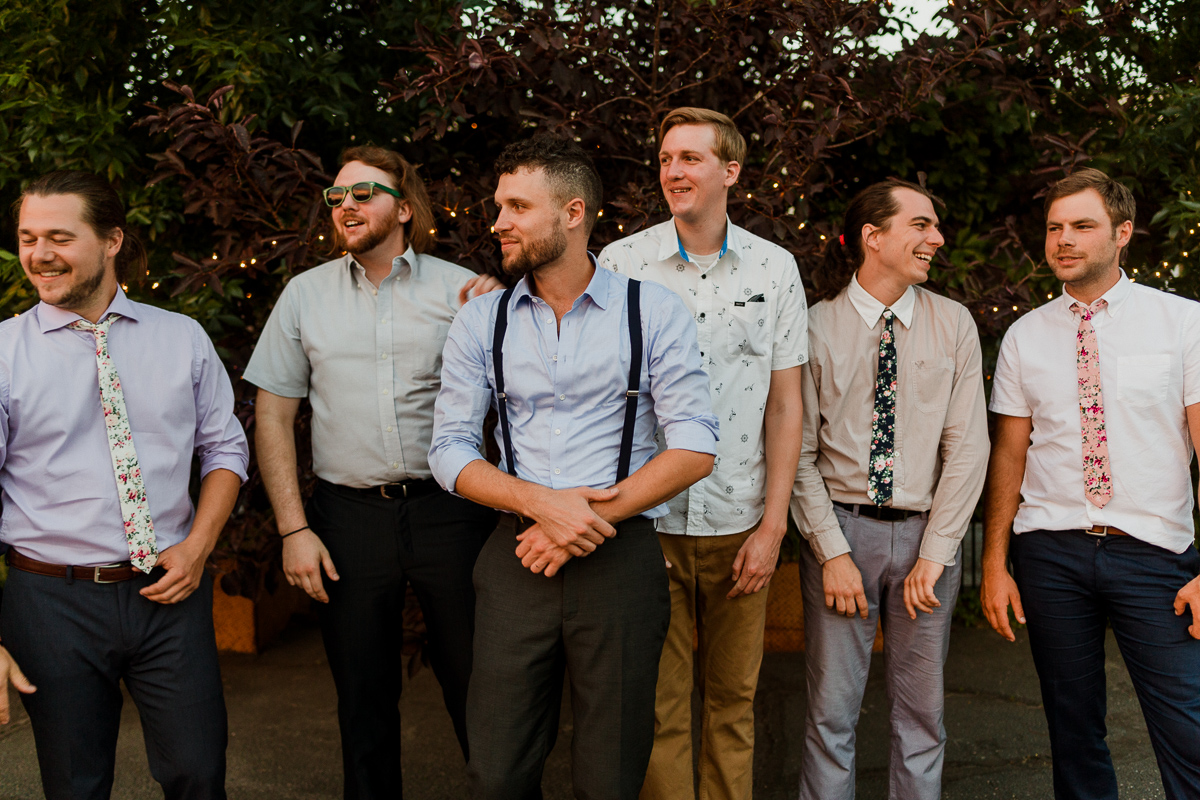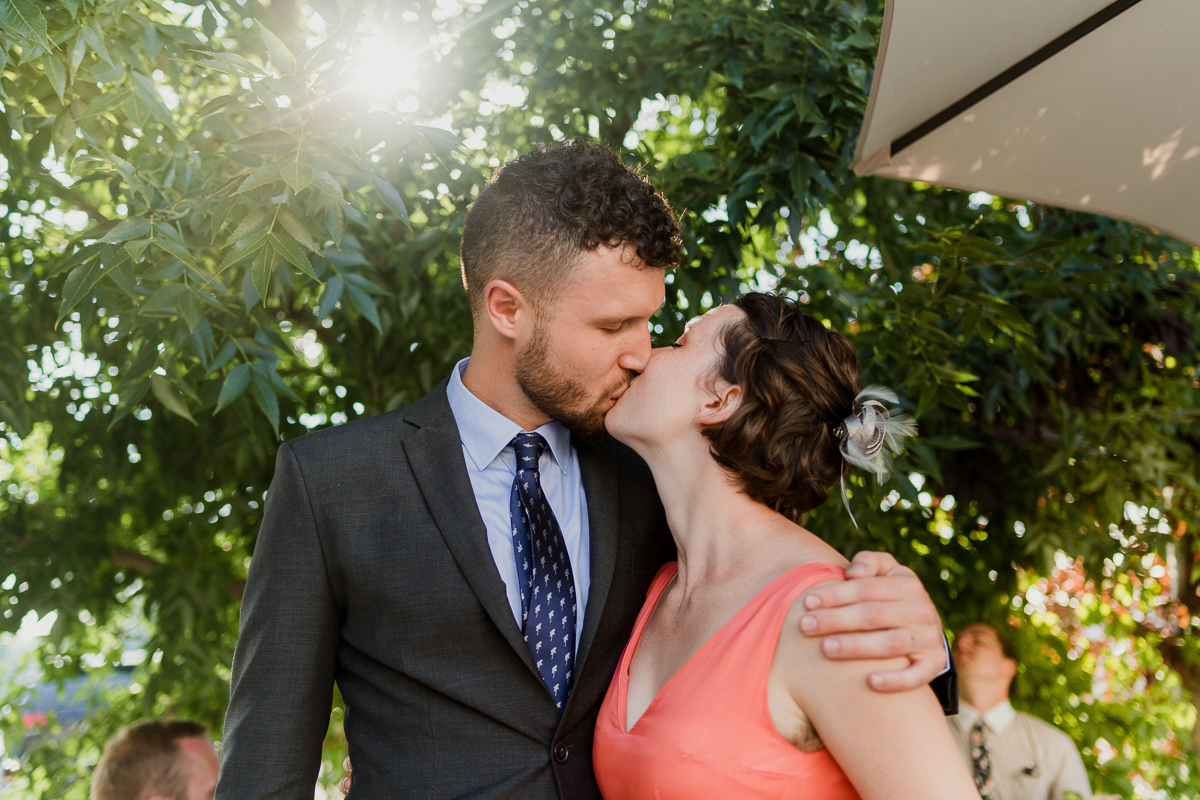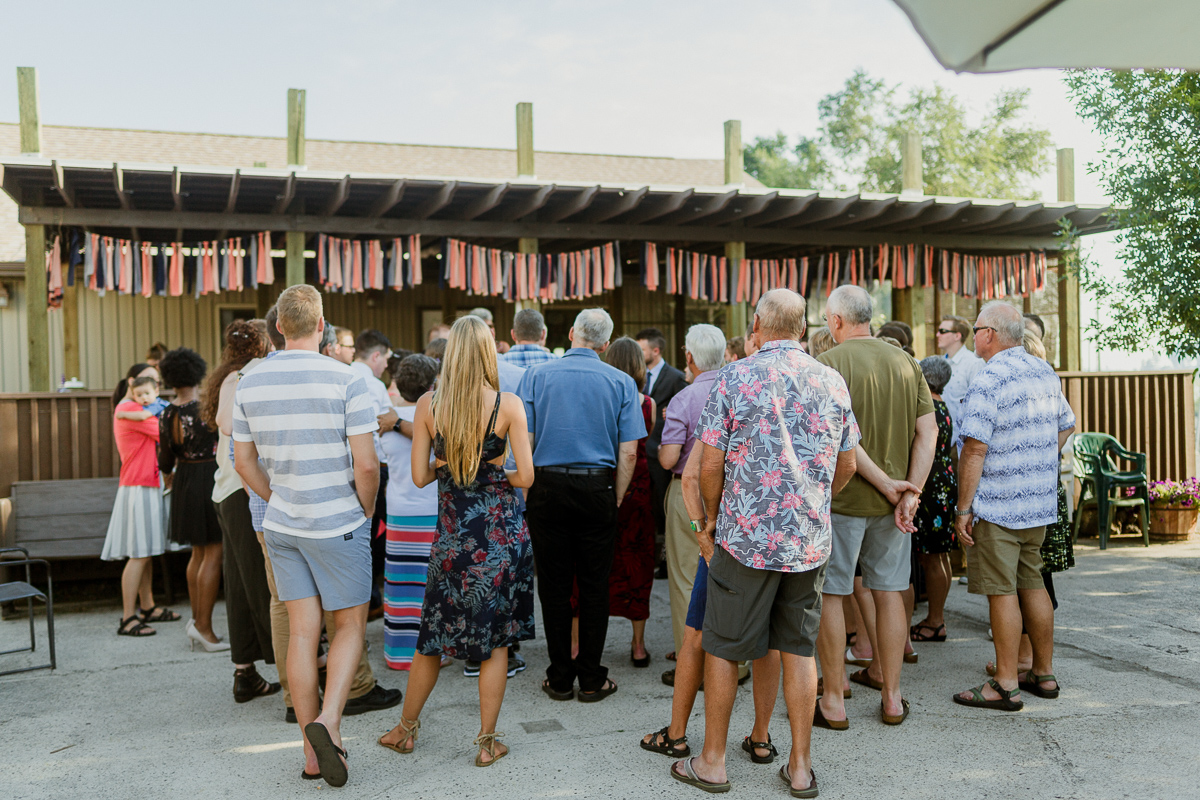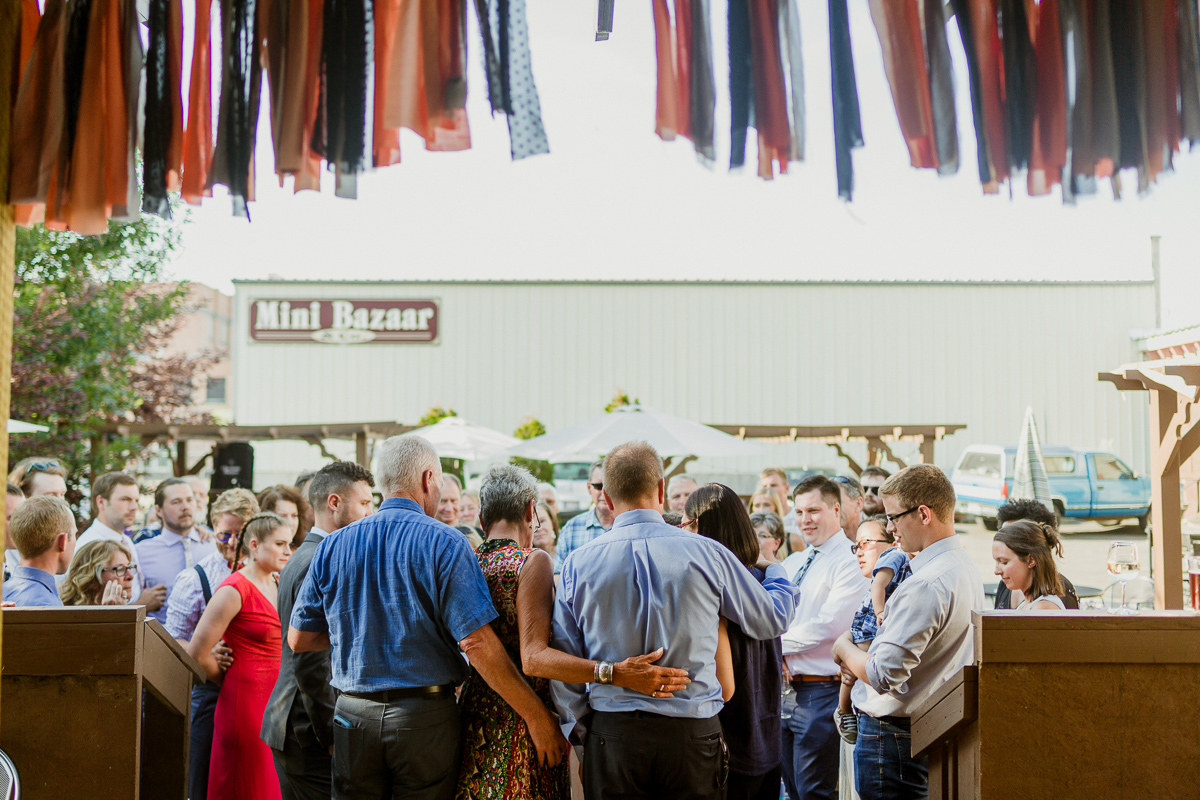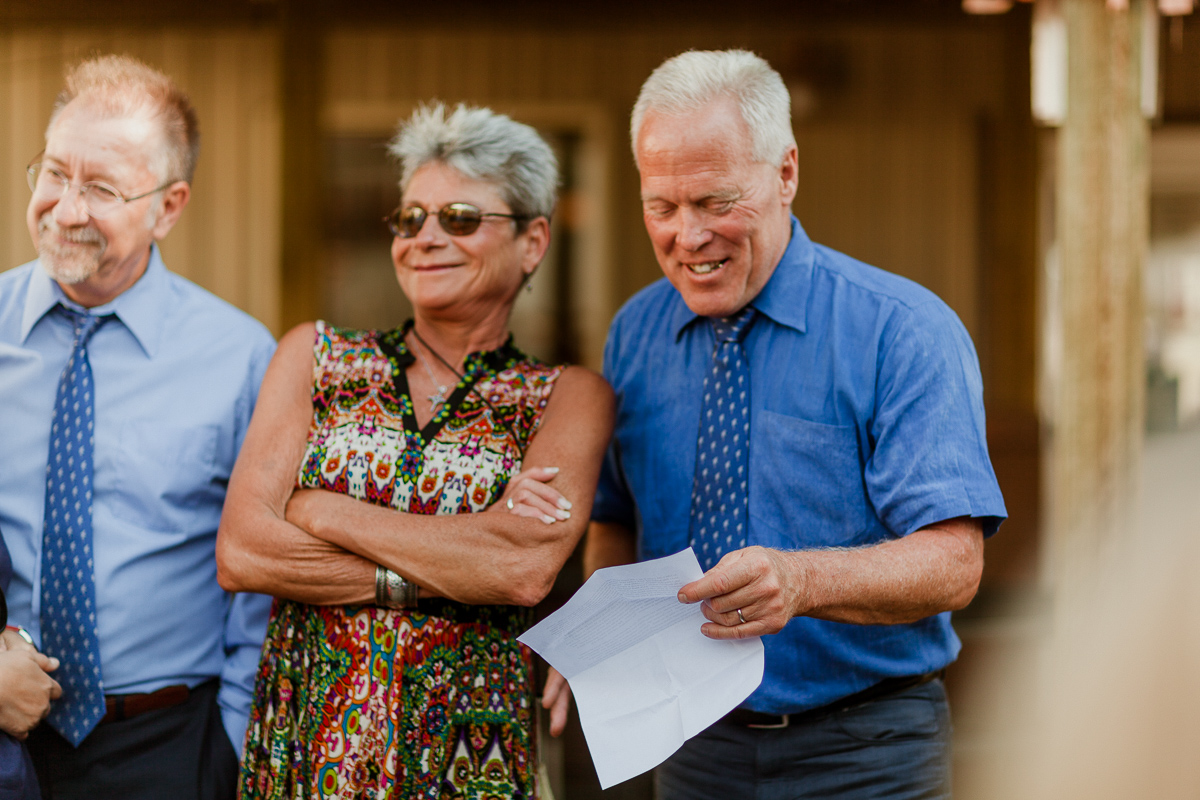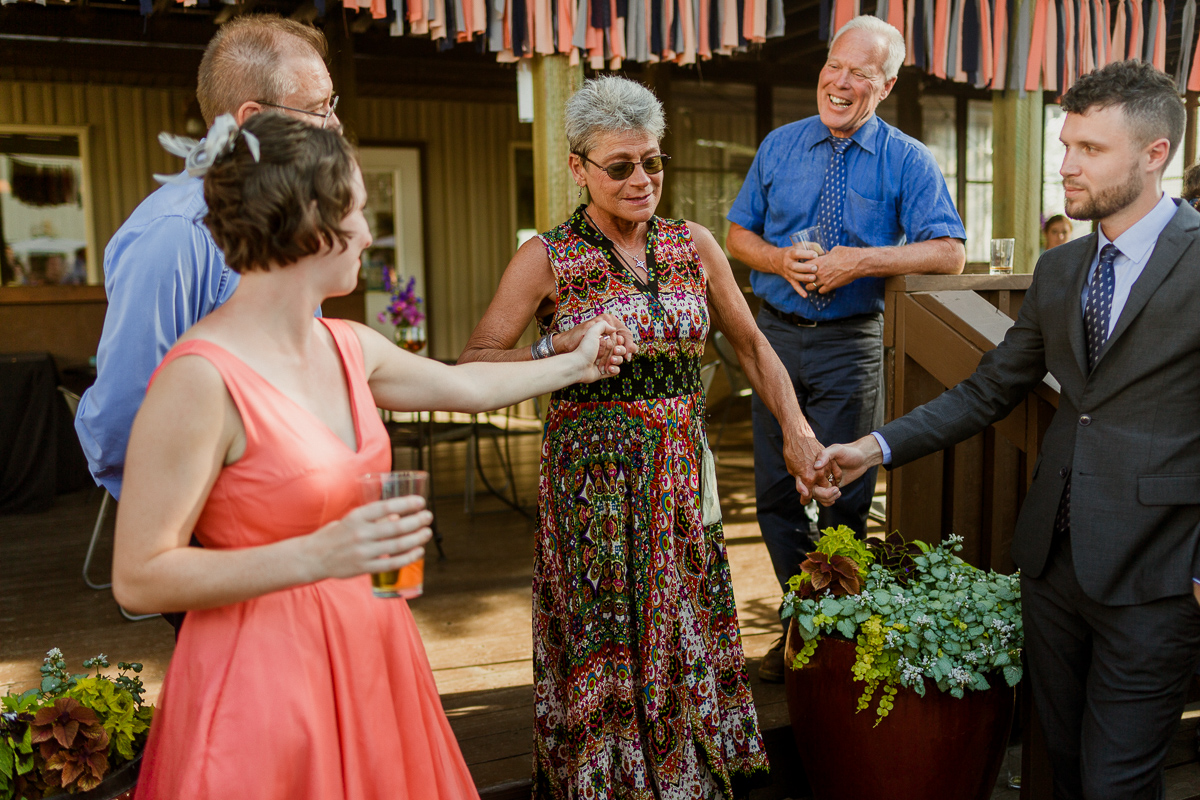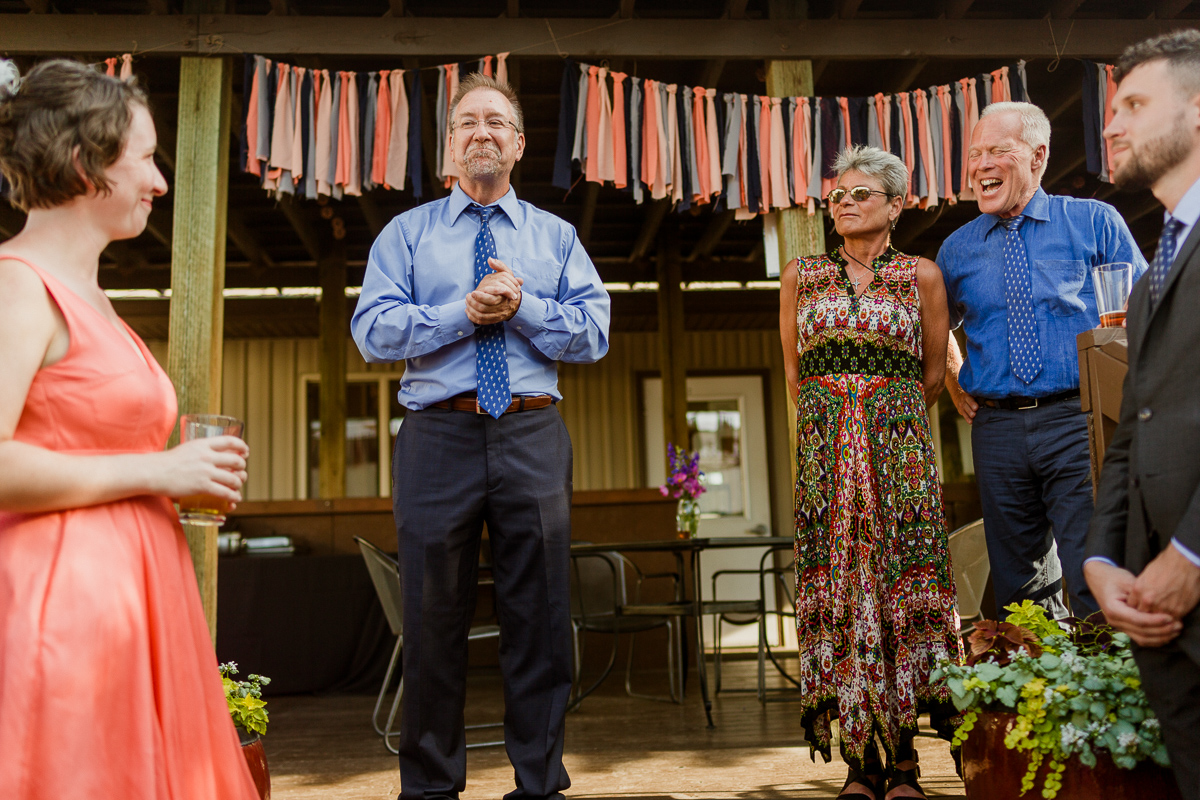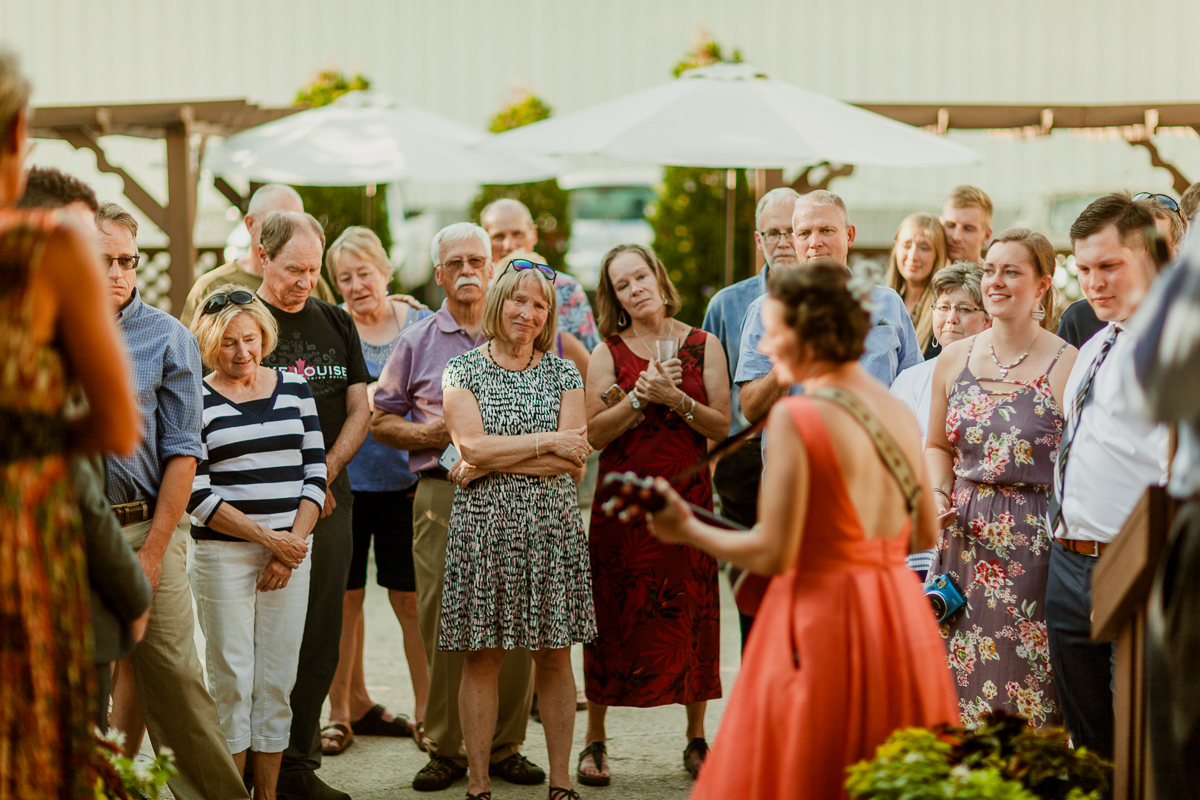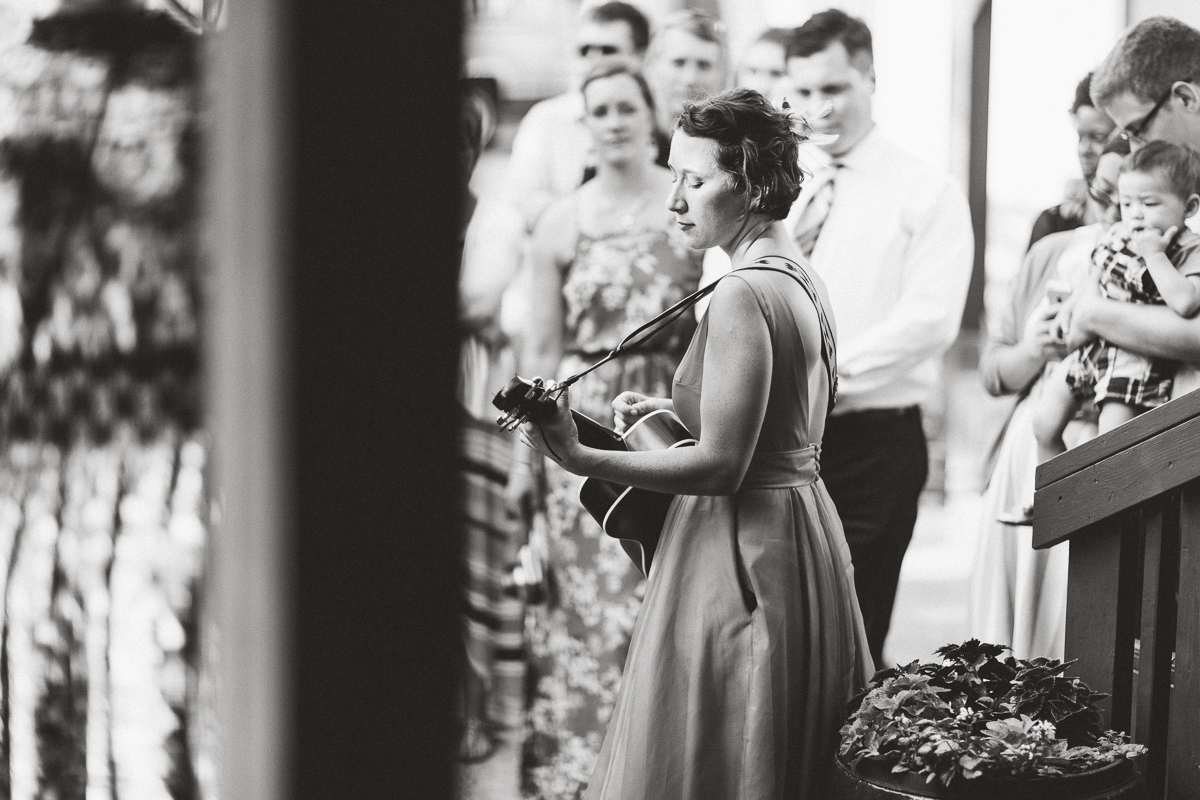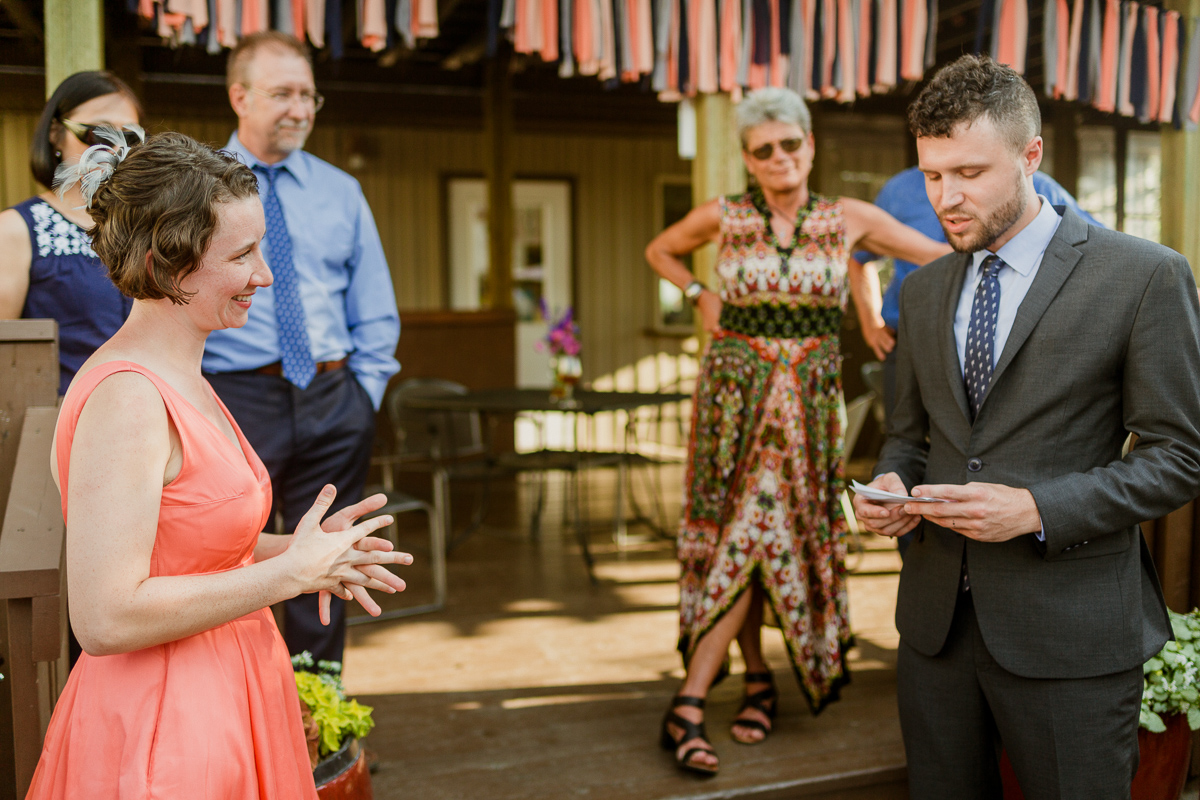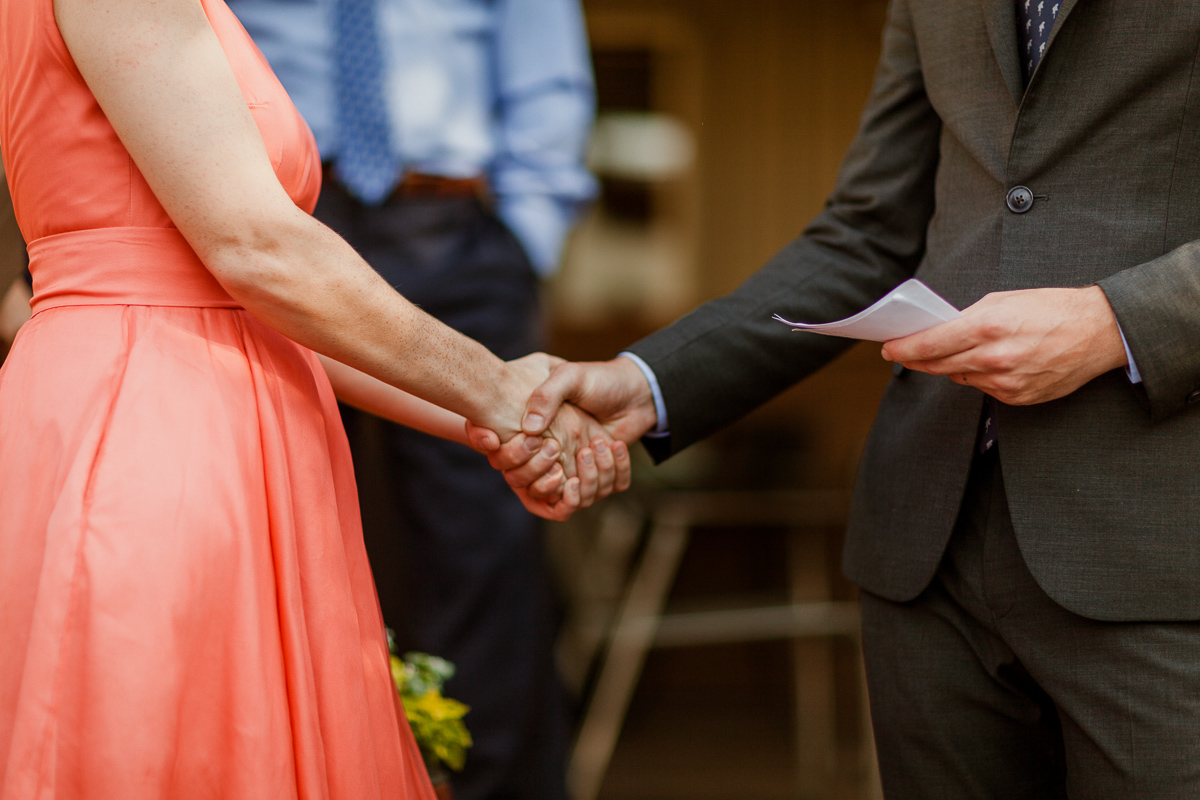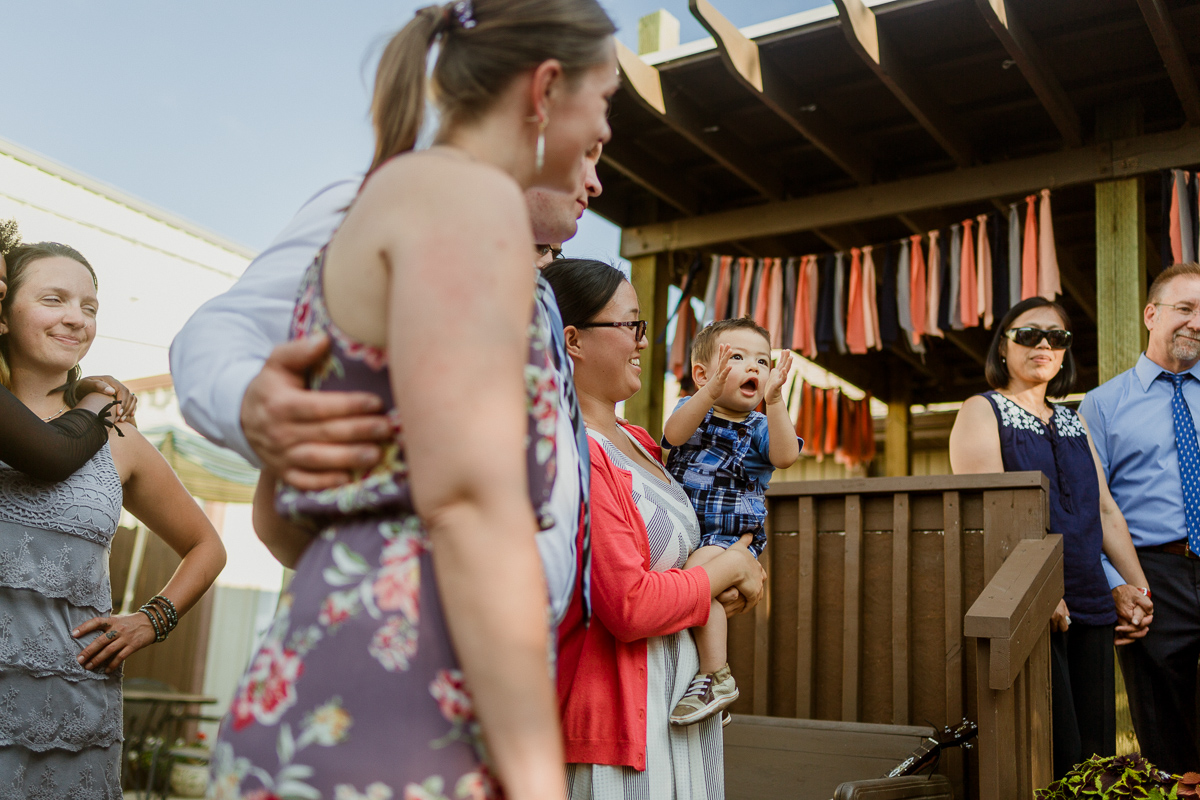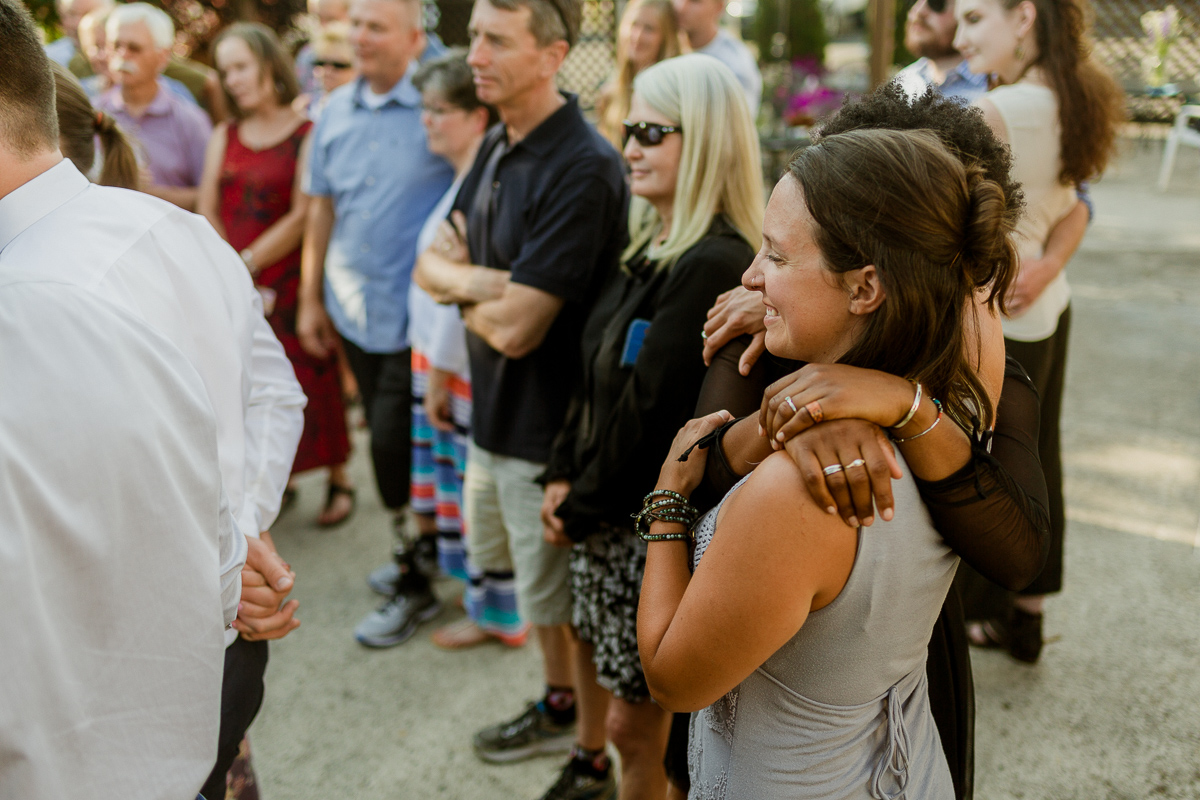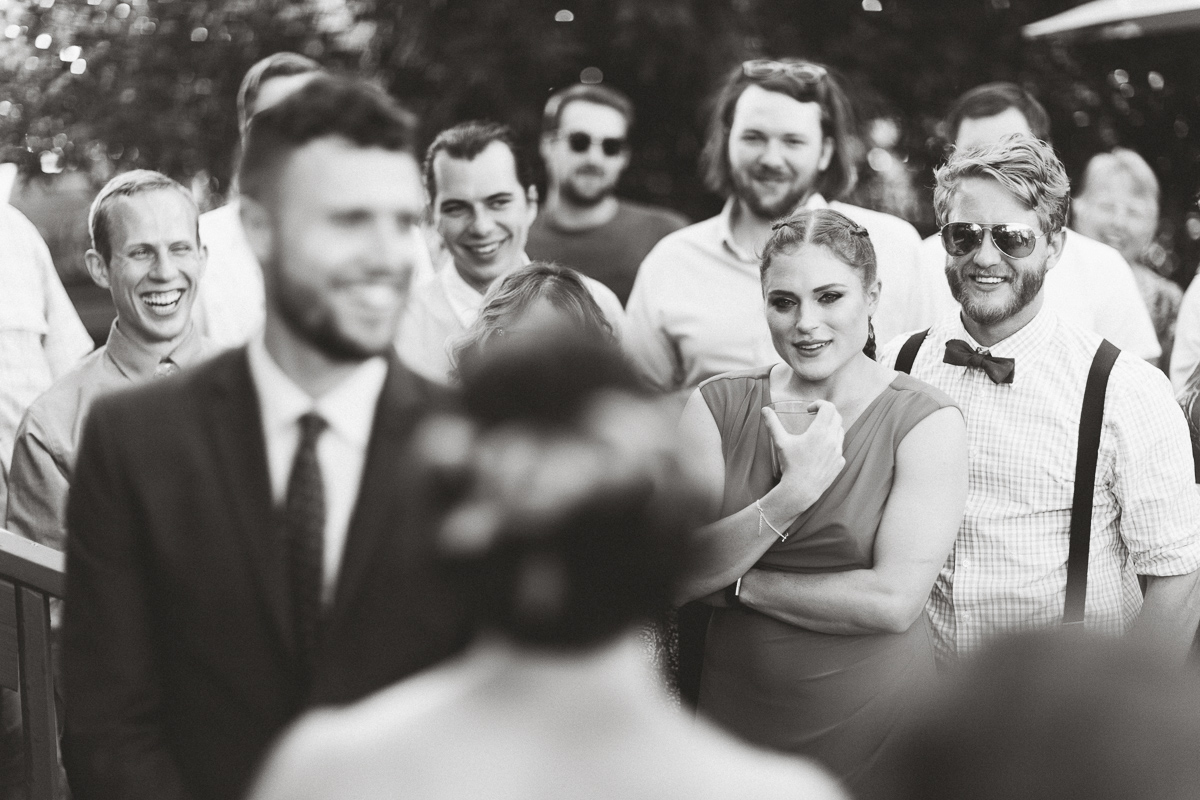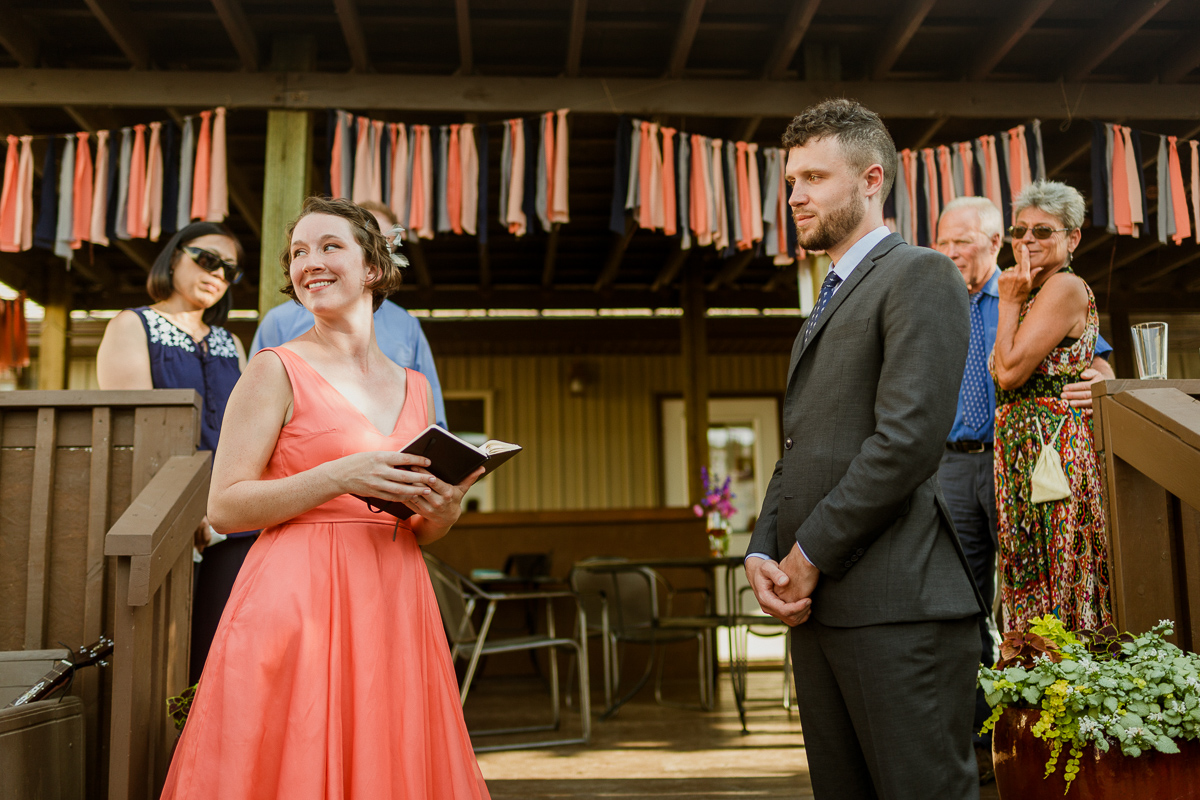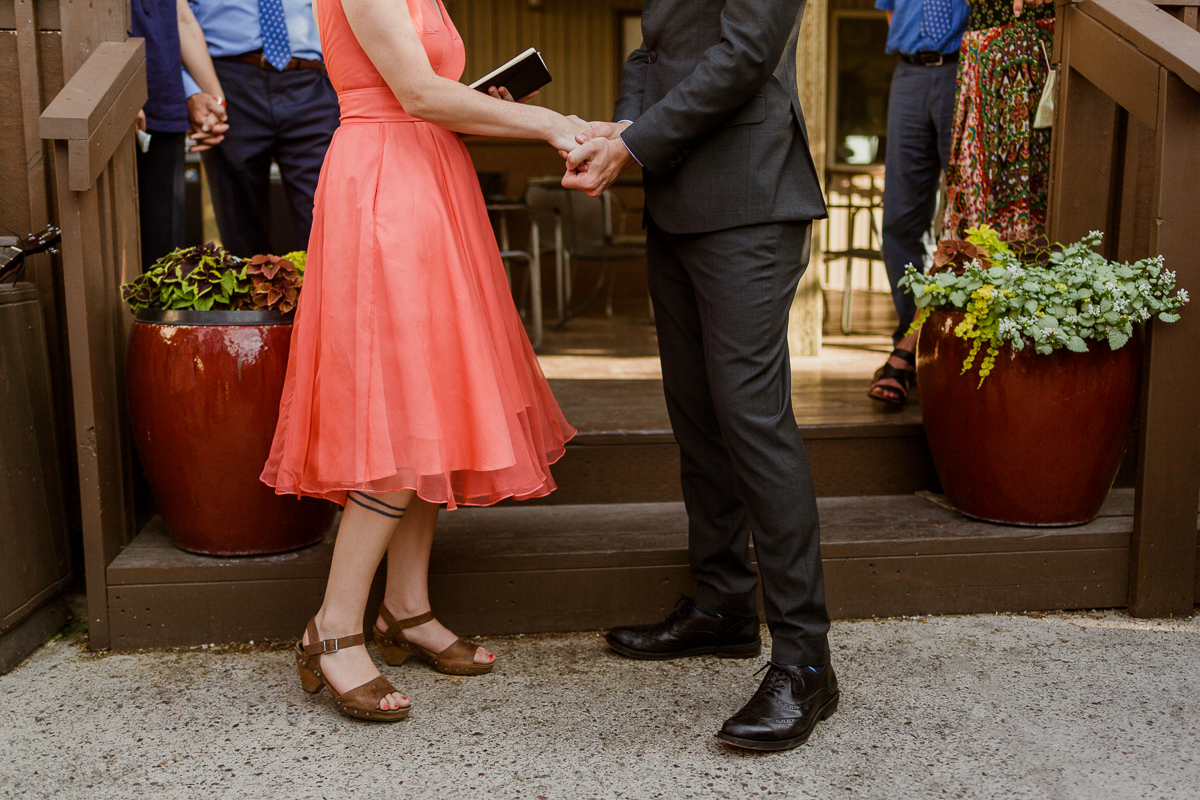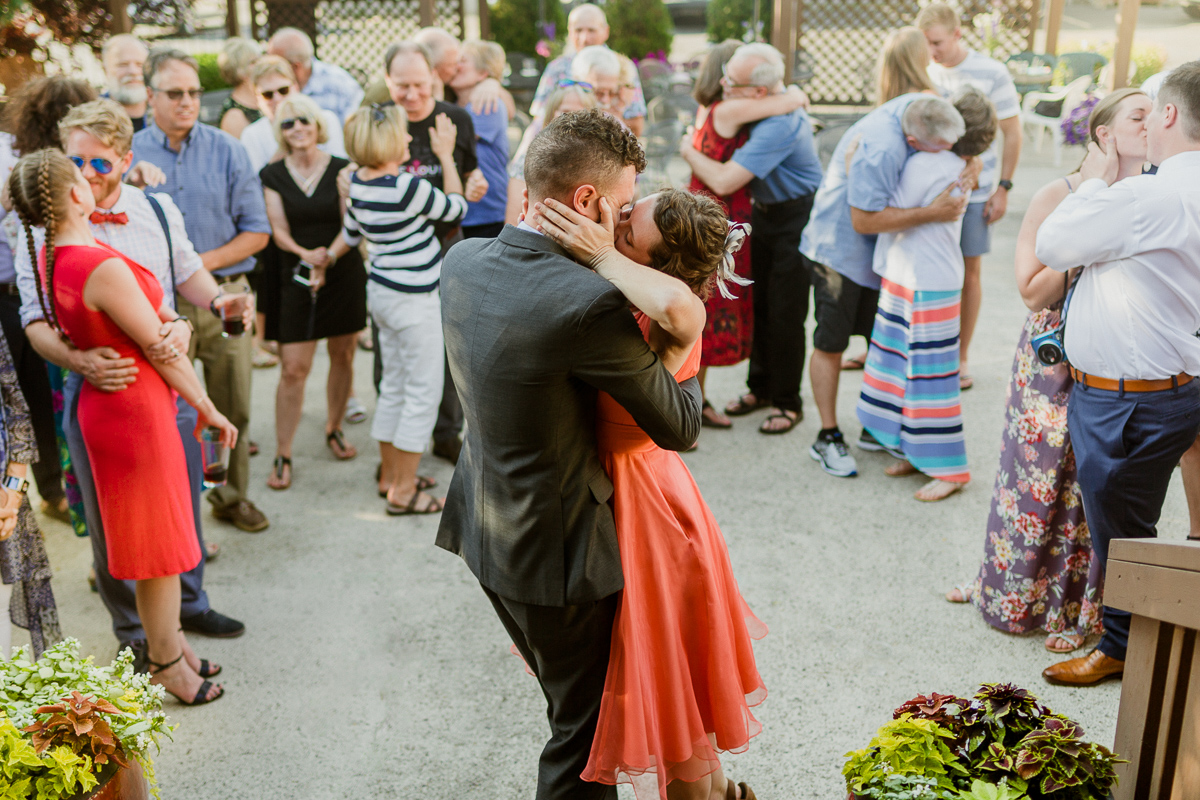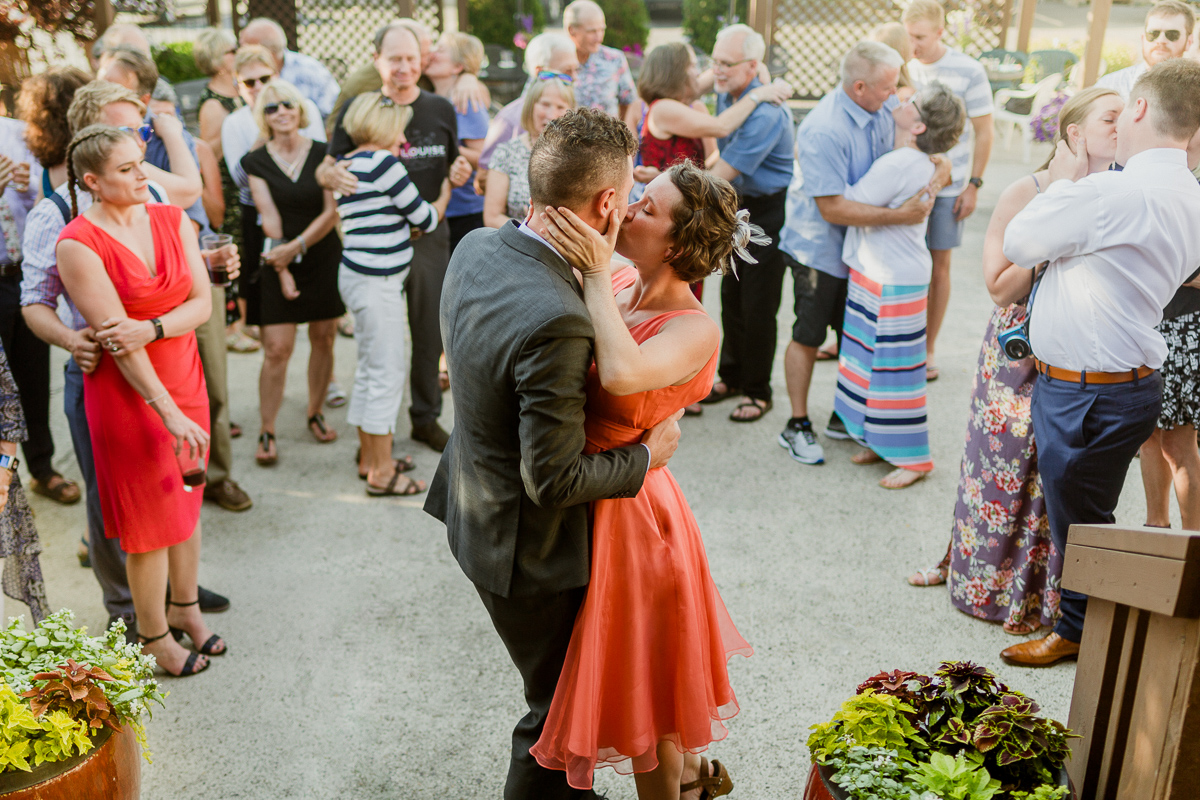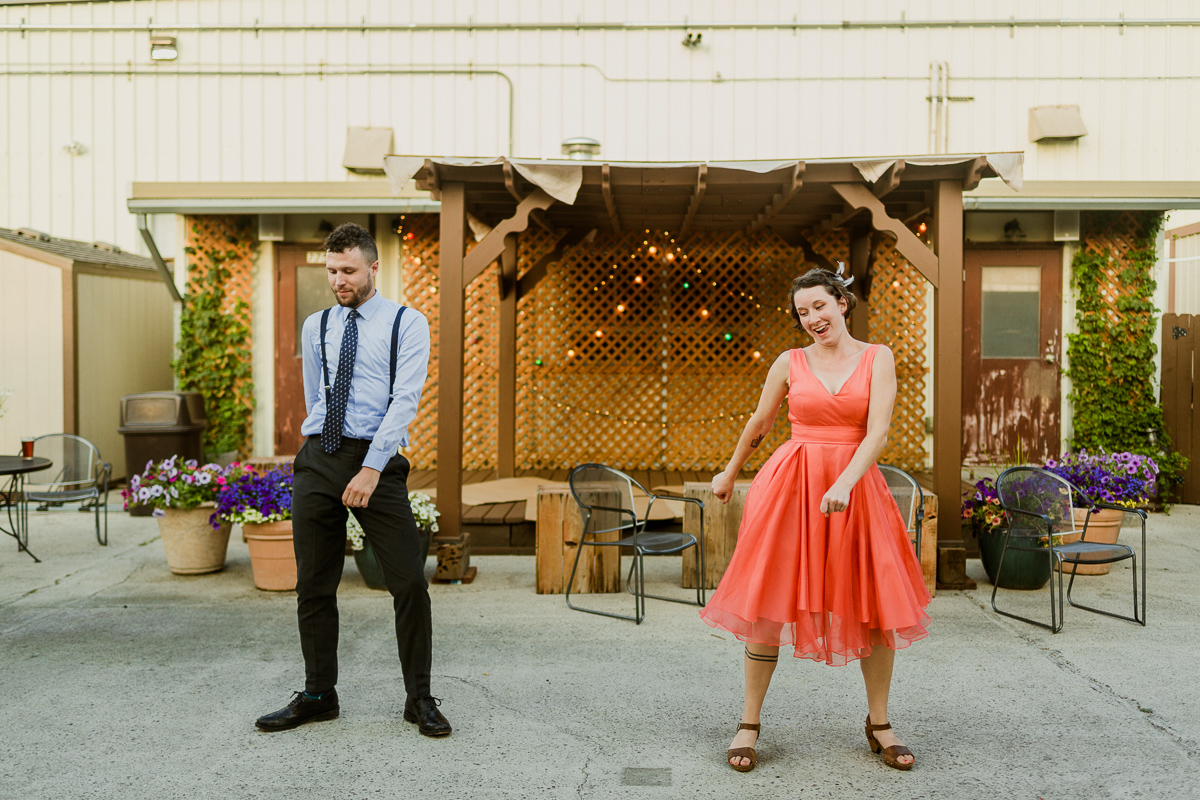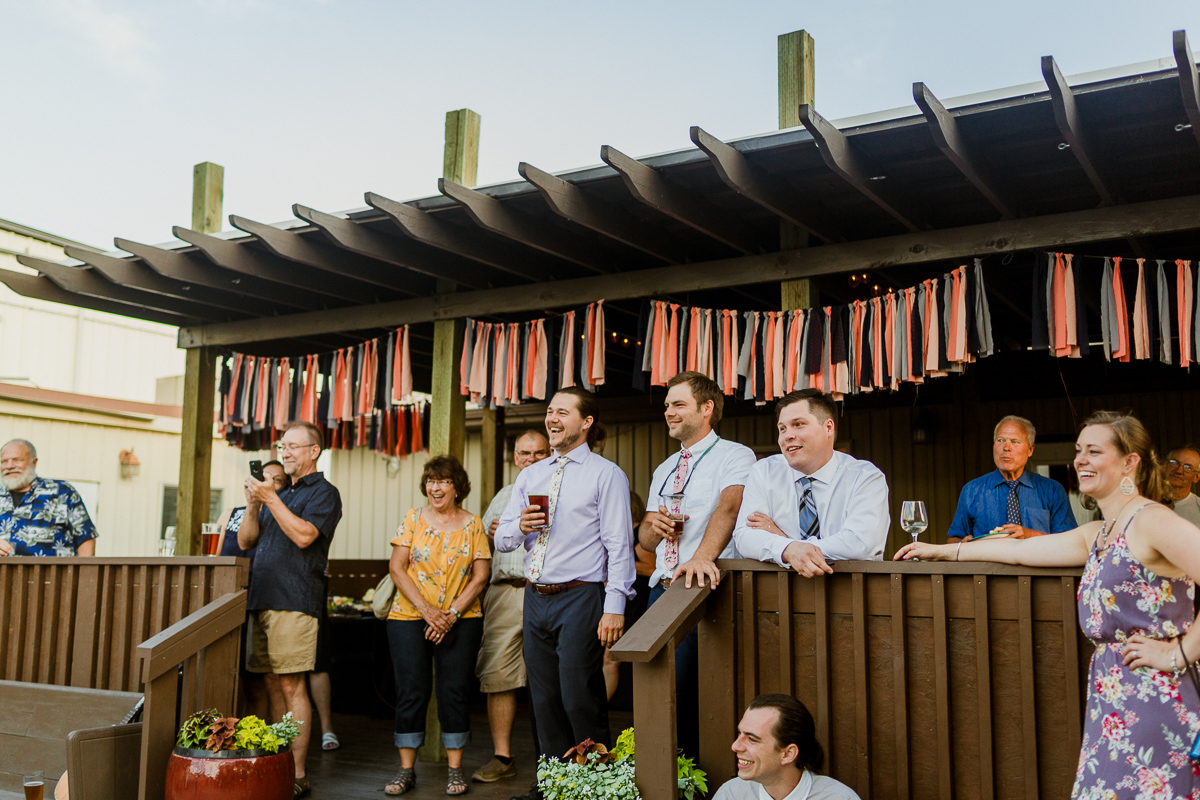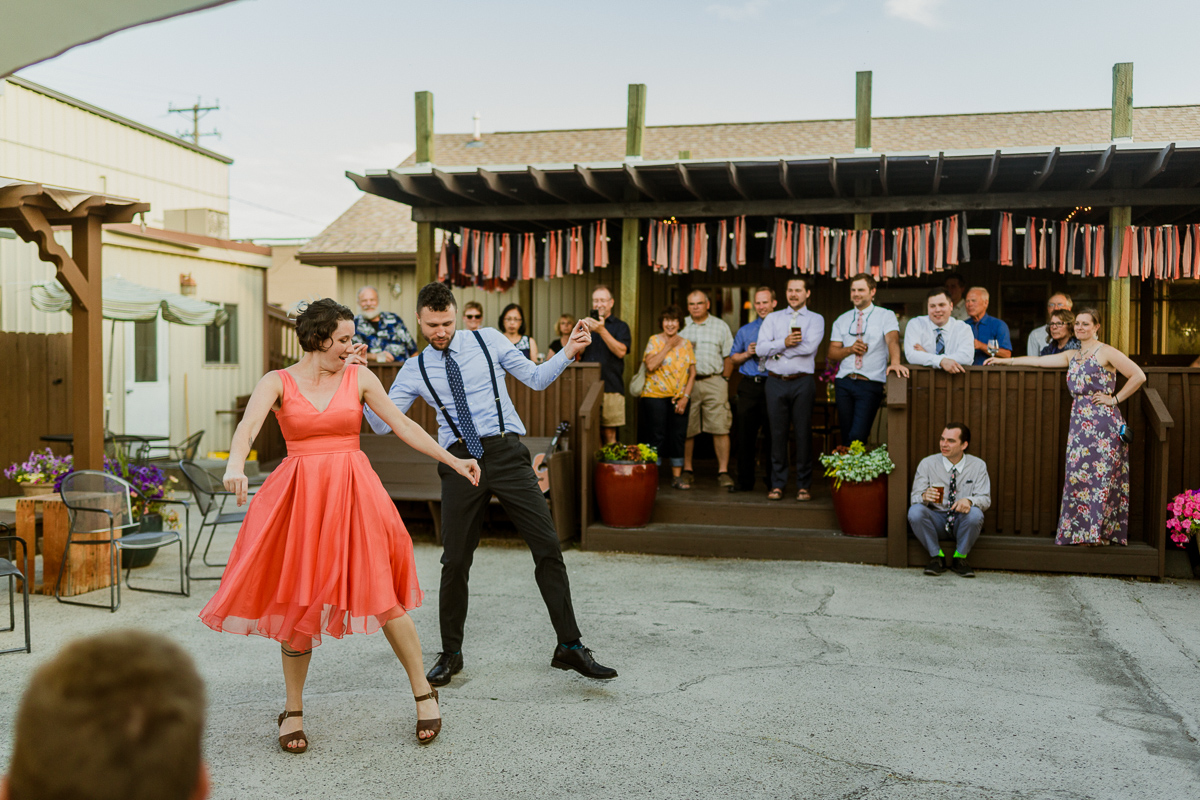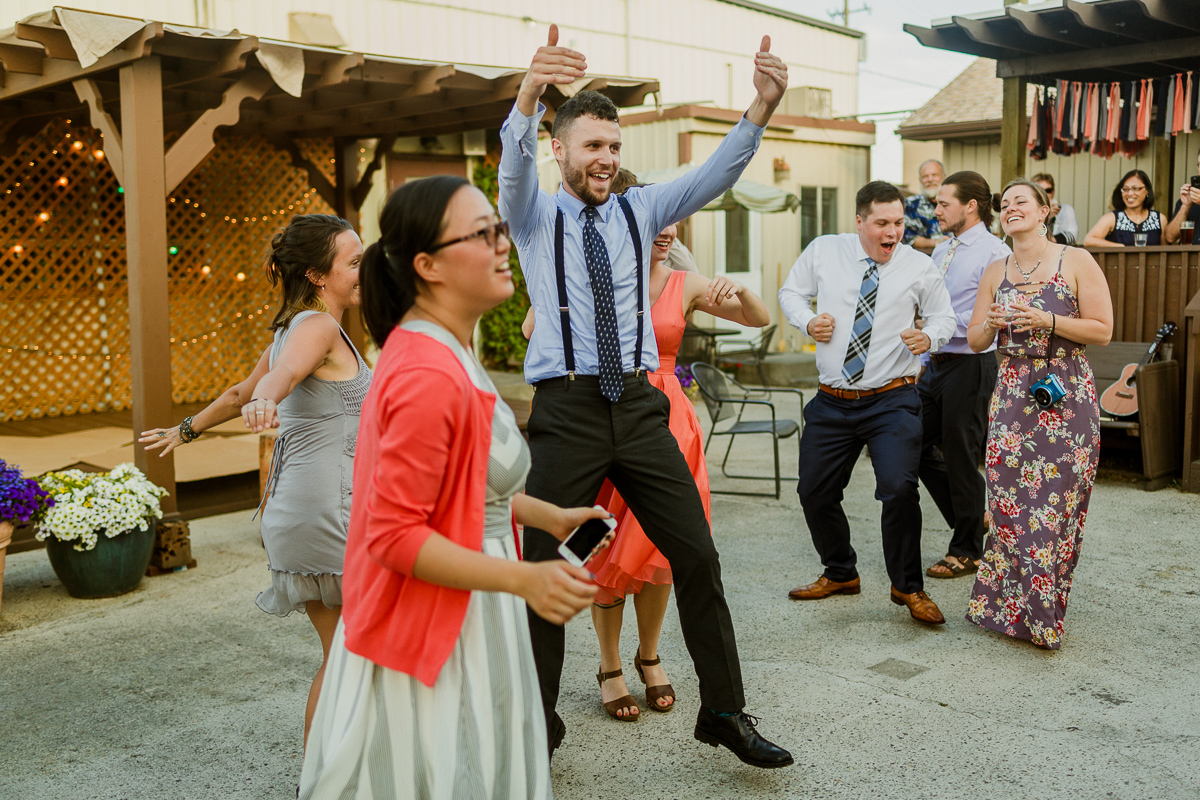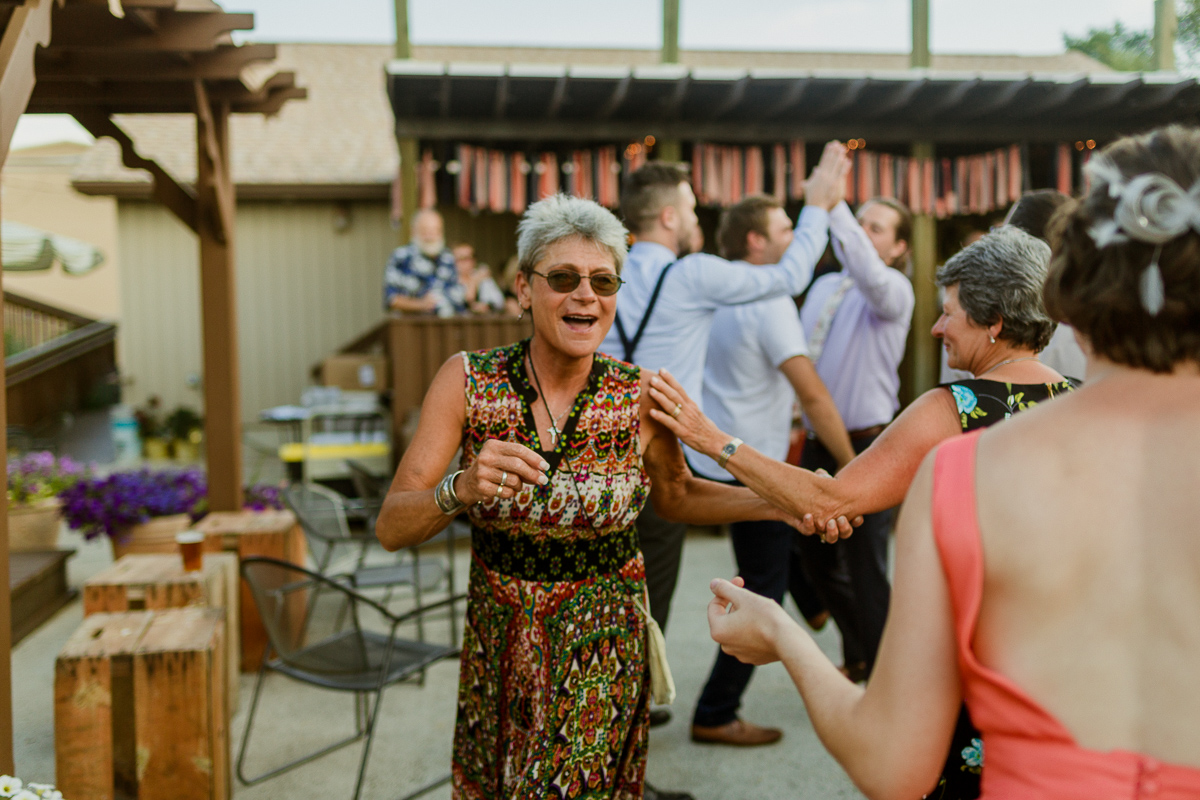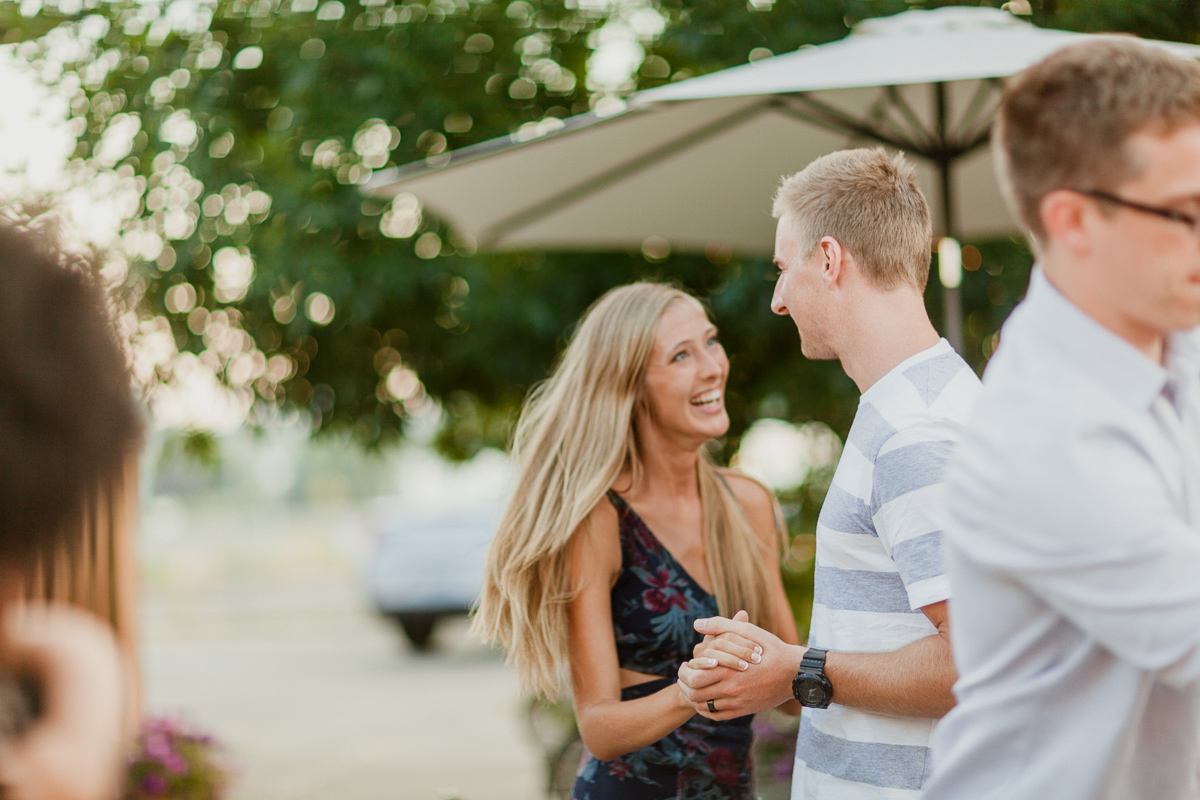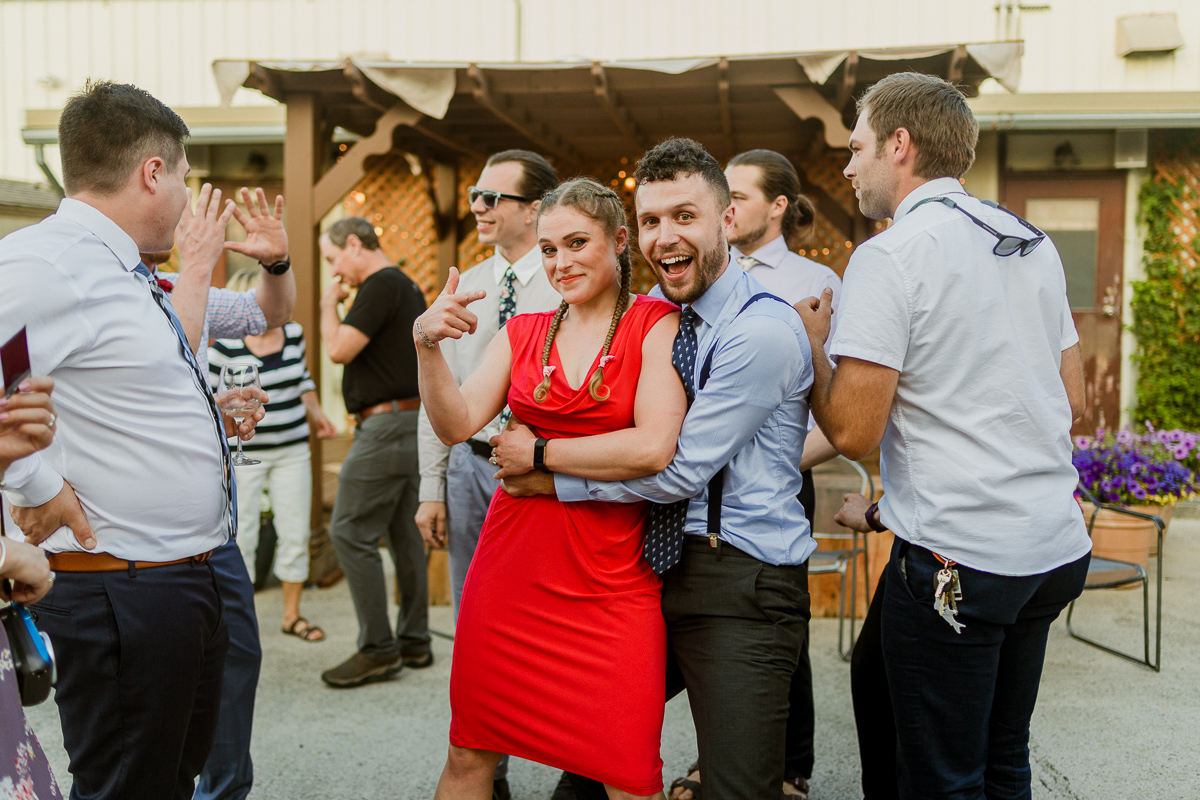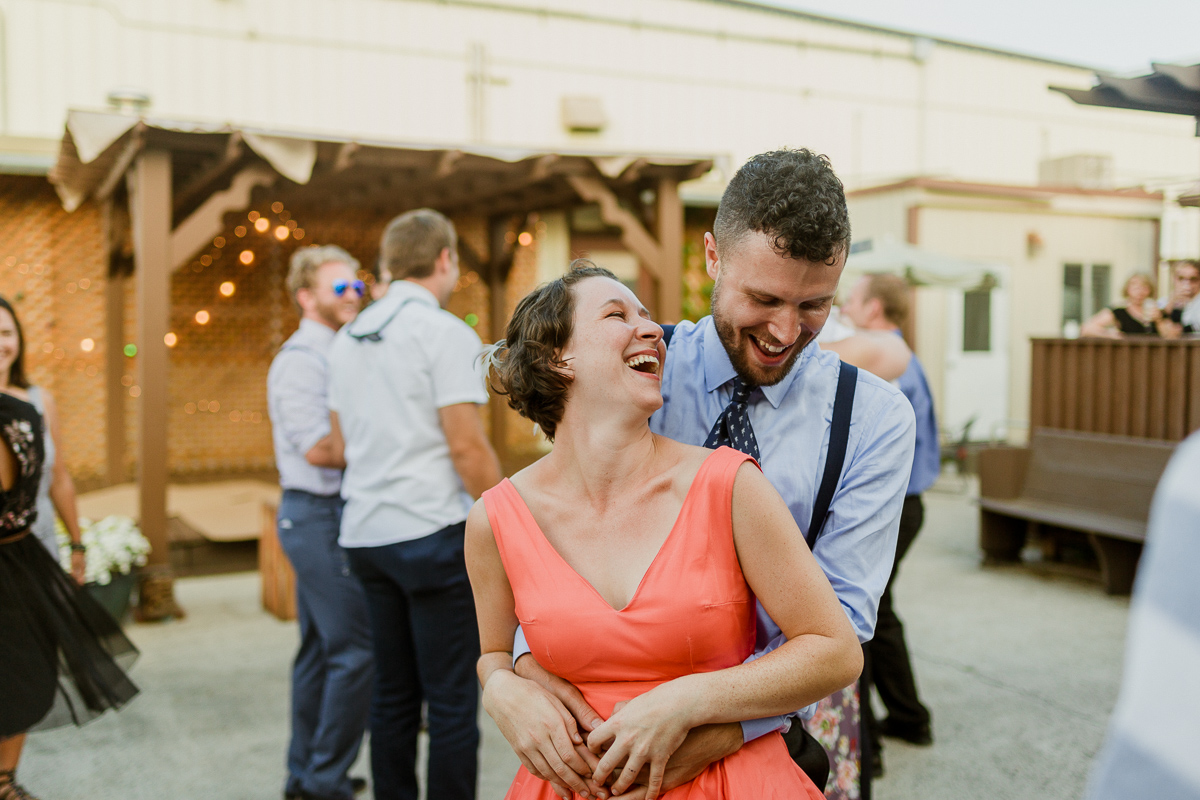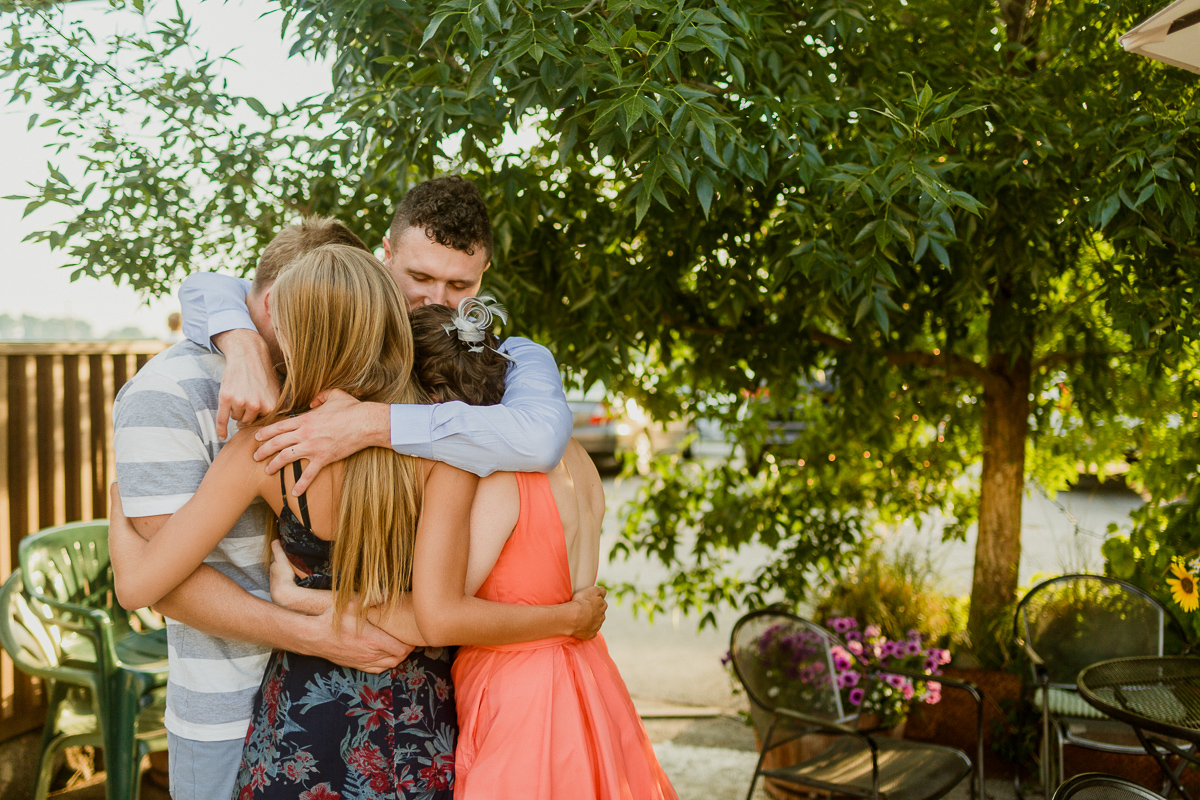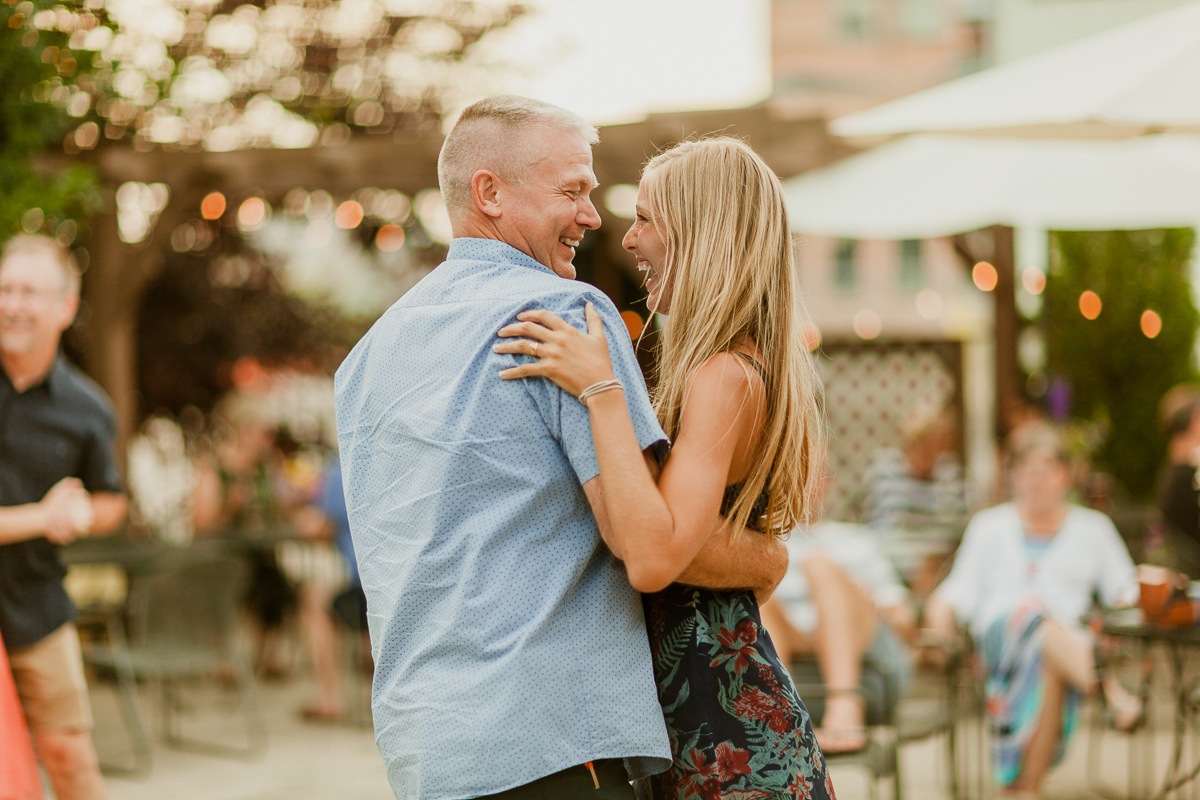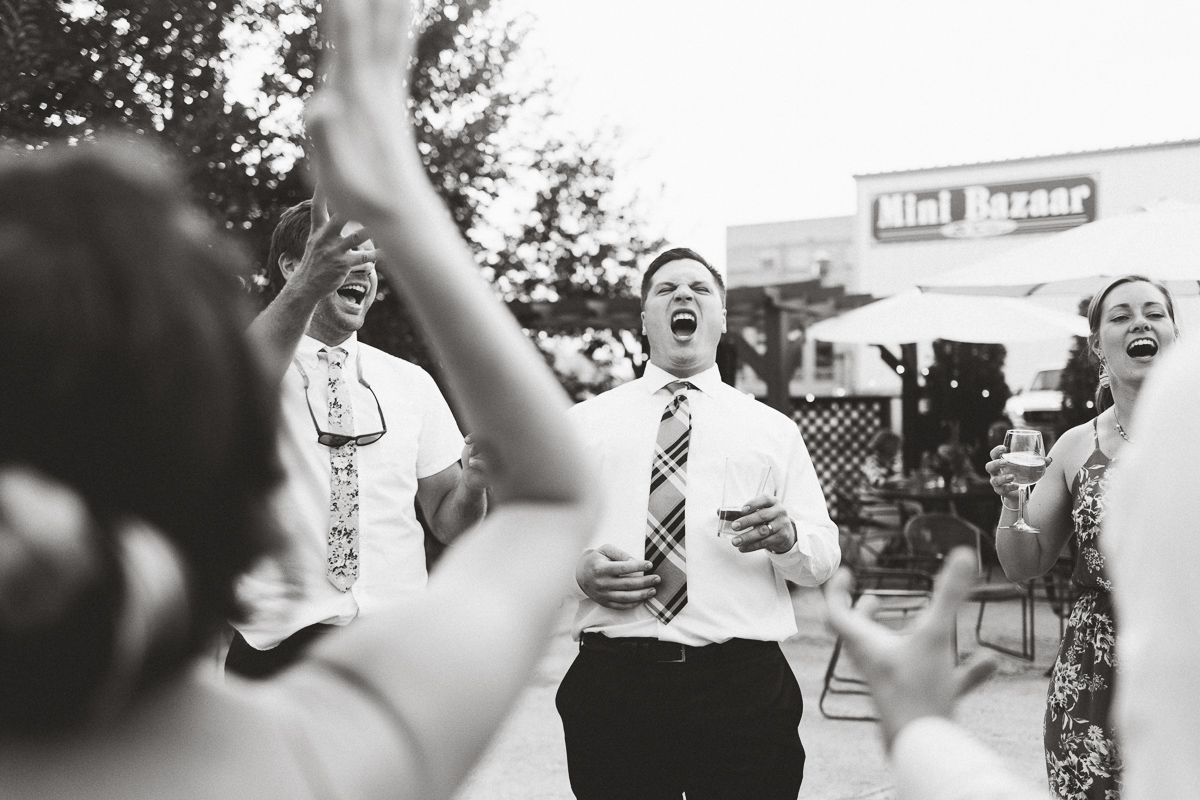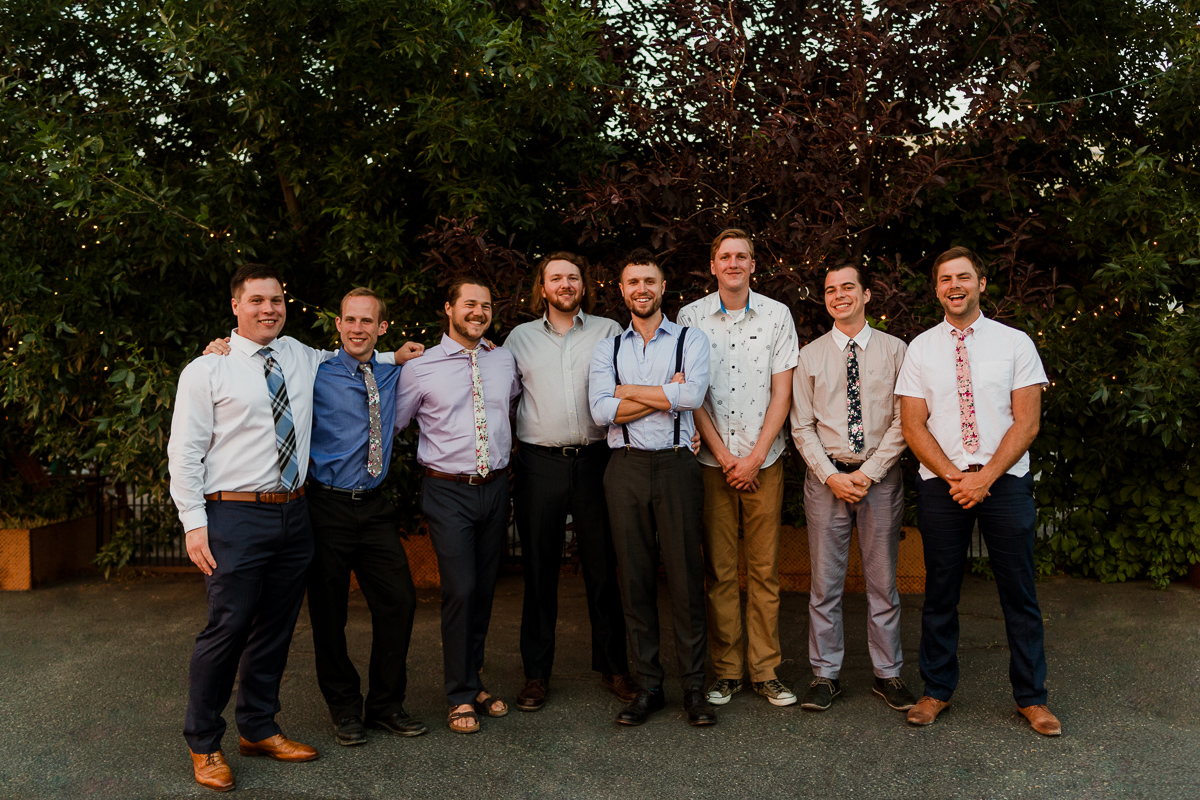 Sunset Portraits
Before sunset, before I put my camera down for the evening and spent the night dancing, we took a pocket of time to walk and take some photos by the Snake River.
The light is beautiful, warm and golden, filtering through the trees so that they almost glow and Katherine and John were so happy, so relaxed. Walking together into the next part of their life.
This one of them walking down a river path together had me wiping tears off the back of my camera. Not because the scene is beautiful, or the light. But because this, this expression on Katherine's face is how you want your best friend to look when she's marrying someone. So filled with joy that it comes shining out her eyes.
Katherine and John I'm so grateful for the privilege of your friendship. The love you share is so sincere and bright - it bursts out and lights up everything and everyone around you. I can't even express what an honor it was to get to be your photographer at this wedding and to celebrate with you via these pictures. Thank you for making me feel so welcome and loved amidst your Idaho community, for being beautiful souls and fun to explore sunsets with, and for sharing your love and friendship. Congratulations, dear Katherine and John!